Go Global: Just Don't Forget Your Roots
March 31, 2017
Globalization has affected nearly every aspect of the human life. Its effects have positively influenced a country's economic growth, political stability, demographic changes and rising education levels, Indonesia included. There is an increasing importance in getting a tertiary education to modern Indonesians, and studying abroad is no longer 'foreign'. It has been reported that approximately 36,000 students – 1% of Indonesia's student population – currently study abroad and expected to have a 20% annual growth. The British Council has similarly observed that Indonesian higher education participation grew by 53% from 2000 to 2009, and that total HE enrollment is projected to jump again to reach 7.8 million by 2020. Of course, there comes plenty of benefits to the hefty price. Among those benefits is an incredible exposure to a world class education, an international experience, and the likelihoods of gaining better job prospects.
Although it is exceptional to hear young Indonesians reaching for their dreams elsewhere in the world, there comes to a sad reality in this: Many are reluctant to come back for the long-term. After receiving a degree and gained life experiences, a majority of them preferred staying and building their life abroad permanently. Through experience, this is similarly what is happening throughout my social circle. A lot of my friends intend to finish their high school or college preparatory education, and many of them plan on staying in the particular host country permanently and not going back. The reasons for this are unintentionally similar such as:
"It is much better there, the living conditions in Indonesia is horrible." "Being Indonesian is an embarrassment. What's good about this country anyways." "I'm certain the country has a slight chance of a positive future."
In the midst of those negative statements, it is important as young citizens to change that. This nation's future depends on you, the ambitious and driven. If the best has left to build another's country, what will ever become for the conditions back home? The foolish will have authority, justice will be undone and left unfixed, and no further improvements will be made, thus repeating the cycle of the negative opinions. To the voiceless, it is your job to give them a voice, to stand up for what's right and to return the privilege into something everyone can benefit from.
Thankfully, the government has come up with several solutions to keep their best and brightest keeping their shoes fitted. Prestigious government-funded scholarships such as the LPDP awards full scholarships for degree-seeking students abroad, but a part of the agreement was to return back to Indonesia as soon as they finished their studies and/or gained some beneficial work experience.
As a high school student who plans on getting my undergraduate degree abroad as well, it is important to remind myself to contribute back to my country. As soon as I have learned and experience the lessons, my obligation is to use the knowledge planting a better future for my country. Hence, no matter where life takes you and how successful you may have become, you should never forget your roots. To the ones who are out and abroad, never forget where you came from. Remember that your beginnings were made here and it has made you into the person you are. Contributing (and not forgetting) and planting the benefits you have reaped to your country will make her thank you back.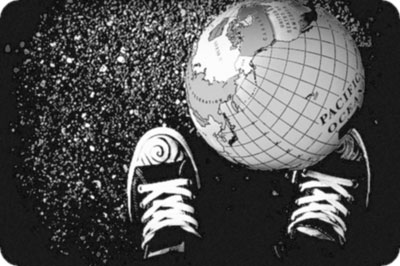 © Kailey E., Crownsville, MD