A Little Bit of Everything
March 28, 2017
I've never been one of those people who travel a lot or who constantly feel the need to. Every two or three years my family and I went to the seaside during the summer break,… and that was it. So you must imagine my surprise when my father walked proudly into the kitchen one morning announcing both, my mother and I, that he had just bought plane tickets for us and that this summer we were going to enjoy a tour throught Asia. I nearly jumped out of my skin when I heard the news. As quick as a flash my bags were packed, my luggage was in the car and the next thing I know I'm sitting in a plane looking outside the window excitedly awaiting to see where our first actual journey will lead.
Our first stop appers to be in Iran, Teheran to be more specific. I have been studing Asia in school so I know a thing or two about culture and tradition. One of the most important ideas to eep in mind is that women must always wear something to cover their hair, to be sincere, I;m pretty sure that's actually a law. And so we start strolling throught the busy streets of Teheran. I find it quite strange in comparison to my hometown. I'm used to noisy people runnuing around with a smile spread around their faces, whereas here, people seem to be walking by taking no notice of anyone completely lacking an expression. I found it sad somehow, thses people had no story to tell, nothing that could give you the slightest clue about their origion or their lifetime. However, I decided that I didn't want to be one of the many. I spotted a group of muscicians playing traditional music at the far corner of the street and quickly jogged towards them. There were some women there who seemed to be dancing, but not in any way close to what I had seen before. Full of curiosity, I stared following their moves ang quicky got the hang of what they were doing. And soon enough a whole crowd of people gathered around us, analizing us carefully. I didn't mind them though, this might have been one in a lifetime experience and nothing was going to ruin it for me. The citizens looked joyful as I gazed around the crowd, spotting people smiling every now and then. Of couse I took a picture of this extraordinary moment in our journey and continued my way through the shopping streets. I only had two more days left to cover all this amazing city, si I decied we should do a little bit of everything. We ate each meal in a different place and discovered that rice was one of the most popular chices of a meal and tried out all the famous desserts we could get our hands on. I ended up bying a CD with some traditional music, a few samples of all the tasty desserts, a glass globe which read, in tiny burgundy letters: IRAN, a tiny flag to keep in my wallet and a traditional dancing costume. I would have never expected it to be one of the most interesting places I had ever seen, but indeed it was and I feel sorry that the first chpater in my adventure has ended but there more yet to be written.

After about four hours of travelling in a small and crowded bus, I woke up to see we were no longer inhaling the dusty air of Teheran , but instead we were gazing at an absolutely astonishing view. Maldives deserves all its prestige regarding its beauty. It was truly incredible. Despite the fact that it wasn't exactly the largest island I had ever seen, it was by far the most marvellous one. There is nothing to compare the crystal clear water to, or the lovely houses built on the sides of the shore. I couldn't help but wonder how it must feel to be living so close to the ocean, the feel and hear the breaze every night and to go swimming any time they wanted. And of couse, I spent most of my time on the beach enjoying the heat of the sun and getting a tan, while also going for a swin frequently and playing voleyball with my family. I even decided it was the perfect opportunity for me to give surfing a try. Maldives is known worldwide for its amazing waves and I couldn't miss such an opportunity. And as a fact, even though it might seem easy when you are a bystander it's so much more comlpicated to actually do it. It felt like it took forever to finally find the equilibrium to sit up properly on the board. Howver by the time the trip ended I could almost catch a wave. It was truly an unimaginable experience, and of course I also remembered to get a some souvenirs, among which a tribal necklace and a whole lot of natural products for my skin and body, including hand creams and differebt types of oils. This truly felt like paradise, not only because I got to relax, but also because it was by far the most enjoyable holiday at the seaside, so far.

Last, but not least, of the most interesting places I visited was Japan. I switched from my lovely bathing suit to a long, silky kimono and a pair of wooden slippers. The women here definetly looked different, most of them wearing face paint and smiling shyly towards us. One of the first things that popped out while observing these people was how poite they were. They would bow towards us whenever we walked by, thus demonstarting the exemplary education they get. I also explored the amazing city of Japan and discovered hundreds of lovely species of colorful and scented flowers. It was a truly beautiful landscape. Not to mention it was the first time I saw people writing with feathers on a different types of paper, also used for creating amazing origami figures. I even attended a tour through one of the most famous museums in Japoan where I got to see a real life samurai costume. Not only did it look fierce, but you could almost picture great warriors fighting battles throught the years wearing these extraordinary suits. I should also add that this was the first time I tried out sushi, and it turned out to become one of my favourite foods. Whatsoever this was only one part of this incredible country. The second part of this trip took us to the capital of Japan, Tokoyo, which is famous for how developed it is when it comes to techonogy. And indeed it deserves all the glory because it was the first time I found advertisements so interesting. Not to mention people in this side of the country have a totally different style, starting with the colorful hair and ending with the, sometimes quite peculiar, outfits. To add some more I found their ways of transport brilliant, not only for being extremely clean, but also for being very quick and not as crowded as expected.

And so, during the three months of holiday I travelled through almost Asia entirely learing something new from each country I visited and picking up customs every here and there. I think it is safe to say this was by far the greatest summer holiday ever!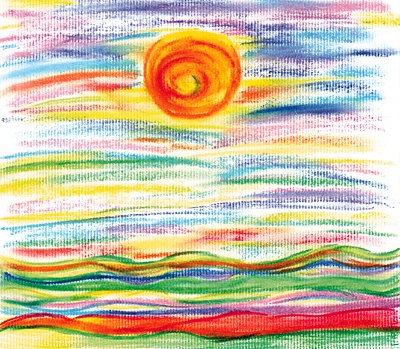 © Jennifer W., Saint Albans, WV