Dear Evan Hansen, You Will Be Found
March 7, 2017
"Dear Evan Hansen" is an inspiring musical about a boy who became an inspiration through social media because he was caught in a lie. Currently, the musical is still on Broadway and has earned more than 10 million dollars in ticket sales at Music Box Theater.

The show was off-Broadway on March 24, 2016 and made its official Broadway debut Dec. 4, 2016. The set consists of sliding video panels with live videos and minimalistic furniture, leaving most of the set to the audience's imagination.

The musical is centered around Evan Hansen, an awkward high school student with social anxiety and a broken arm, portrayed by Ben Platt. He's an outcast, with only a family friend, Jared Kleinman, portrayed by Will Roland.
During my favorite song in the show, "Waving through a window," Evan reveals how he feels like an observer in his life, never able to connect with people. Evan is living in a society where everyone shares and judges everything, while he's too closed off to even bother contributing his thoughts.

Evan Hansen is a character that I think everyone can relate to. We all have our flaws and quirks and in an interview, Platt said he can also see himself in Evan. Platt creates Evan as this mess of tears and anxiety, which most people can connect with at some point or other.
I think this show is similar to "Next to Normal," a musical about a mother struggling with bipolar disorder, not only because Michael Grief directed both shows, but because it explores how mental illness can affect everyone.
The story begins on the first day of senior year, and Evan's mom, a nurse aide and night school student named Heidi, portrayed by Rachel Bay Jones, struggles to connect with her son. Meanwhile, the Murphy family is also preparing for school, with Cynthia Murphy, portrayed by Jennifer Laura Thompson, trying to reign in her son, Connor (Mike Faist), while keeping her fragile family together.

Connor is also a loner, but he has a mean streak. That morning on the first day of school, Evan and Connor have a rough encounter, prompting Zoe, Connor's sister, to apologize for his behavior. Later on, Evan writes a letter to himself as his therapist suggested, writing about his day and his crush on Zoe Murphy.

During the school day, Evan prints out his letter and runs into Connor, who acts more civil but then snatches Evan's letter because he sees a mention of Zoe and thinks Evan wrote about his sister just to hurt him. For the next few days, Connor is absent from school and Evan finds out from the Murphys that Connor committed suicide, with a letter addressed to Evan Hansen in his pocket.

Evan tells a white lie, saying they emailed each other and were friends. After telling this lie that seems completely harmless, Evan and his friend Jared Kleinman write fake emails that will prove Evan and Connor's friendship, in "Sincerely, Me".

Evan helps the Murphy family, including Zoe, through sort of closure and healing in Connor's death, while the Murphys give Evan a place to belong, although it's based on a lie.

When the school has almost forgotten about Connor, Evan, Jared, and another friend, an overachiever named Alana Beck portrayed by Kristolyn Lloyd begin the Connor Project, an organization to remember Connor and help those who feel lost.

The official launch of the project is an all school assembly, where Evan gives an inspiring speech about his friendship with Connor and loneliness. It's posted on the Connor Project website, and gains popularity.

After the video goes viral, Evan becomes a social media sensation. This shows how social media platforms can inspire positive ideas, but a movement might be all a mirage. The musical is the first of its kind, a Broadway show centered around social media. It teaches how people can get caught up in technology and they can forget to actually live their lives.

"Dear Evan Hansen," is about the impact of social media on our lives and self-acceptance. Although sometimes our lives might be rough, it'll be alright because "at least you're you, that's enough."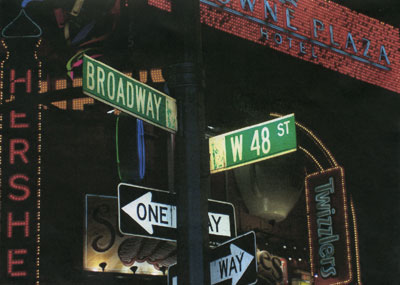 © Kaitlyn S., Milford, CT