The City of Dreams
February 3, 2017
I recently took a trip to New York City. Manhattan specifically. It is a beautiful place with millions of people. There are so many people living there, that some don't even own a car. They either take a taxi cab or the subway to their destination. While I was there I was one of the people who took a cab, but only when the place was far away. If I was just going down the street or a few blocks down, I just walked. It was great exercise and the weather was beautiful. I visited at the beginning of September so the air was windy and the leaves already were starting to fall.
My first day there, I remember going to Central Park. It was so big, that I didn't get to see the whole thing. There were lots of children, statues, horse carriages, and food vendors. I walked past about 3 or 4 playgrounds. I remember how there was an incredible aroma of flowers in the air. I looked around and they were all around me, growing in the grass, trees, and bushes. I also noticed there were lots of people selling objects and offering rental bikes and horse carriage rides. I took one of them up on their offer and took a canoe ride in the lake. I made sure to take extra pictures when the ducks swam over to me. There were lots of people there so we played a small dangerous game of bumper boats. I finished my ride and took a walk around the park until I found a hot dog vendor. I'm not sure what it is about them, but the New York hot dogs just taste better. I ended my day by taking a taxi back to my hotel.
The next day, there was a festival outside my window. There were lots of people, taxi cabs, and people selling objects. It was like a central park, but all the vendors were here, and it took place on the street. I rushed outside and took a walk through the crowds. I ended up buying a small lemonade, an "I heart NY" tee shirt, and a new pair of earrings by the time I was done. I kept walking down the street, stopping by every stand, until I realized that I was on Fifth Avenue. The buildings were probably 200 stories tall. I saw lots of stores like Tiffany & Co, Harry Winston, and much more. I took lots of pictures. I spent the rest of the day walking around and eventually found a restaurant with some famous chicken noodle soup. The place must have been great because there was quite the line of people waiting to get in. There were about 10 different families standing there. The wait was about 25 minutes, and there weren't any restaurants around so I figured that to experience a new place, something you must do is try the local cuisine. I patiently waited for my turn, and once it came, 25 minutes was definitely worth it. The soup was incredible! I ordered another one to go for my trip home.
I was feeling mixed emotions about going home. I knew I had to go back to school, but I also wanted to stay. I packed up my things and headed for the airport. The taxi ride seemed like it lasted 5 minutes. Before I knew it, I was on the plane, eating my soup from the night before. Even cold it was delicious. The plane took off and I said goodbye to "The City of Dreams".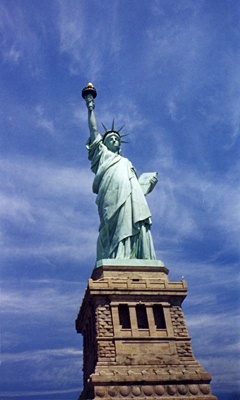 © Michelle S., Loda, IL