Holiday Consideration
November 26, 2016
Reminisce on Christmastime from when you were a child. Baking sugar cookies, decorating the tree, and of course jamming to Atheist tunes like "White Christmas" and "Santa Baby." And of course opening presents. Waking up at 6:00 AM and driving your parents crazy until they're finally annoyed enough to roll out of bed and watch you gleefully unwrap their entire December paycheck in less than an hour. What many people neglect to consider at holiday time though is the meaning of the holiday. I mean, poor Jesus, never getting the credit he deserves. Or the Virgin Mary, who miraculously gave birth to a child without even having to be with a man. Damn, if only more women had this ability.

I remember as an eight-year-old seeing the look on my dad's face one Christmas after unwrapping a high-quality tool kit from my mom and knowing he was thinking Wow, my wife really does still love me. While Christmas is a perfect time to show your love and appreciation for people in your life, or for Santa to show a naughty kid who's boss by leaving only coal, the holiday has so much more meaning than that. Besides being the last chance to act as a bear and pack on some extra pounds to endure the cold winter, Christmas is a celebration of the birth of our Savior Jesus Christ. Afterall, God created the bears too, and he deserves that recognition.

Even if you're not religious, Christmas can be a time to celebrate the joy of giving. Your bank account may not look so joyful after the holiday, but at least your family's faces will. Christmas is about more than just receiving gifts and indulging in sweets; it's about spending quality time with loved ones. Many people are caught up in the greed or hassle of Christmas, failing to consider the history and purpose of the holiday.

Another stellar example of a holiday celebrated without consideration for its origins is the 4th of July. Trust me, I love how Independence Day elicits my inner pyromaniac evil twin. That evil twin would never intentionally shoot a Roman candle at my older brother in spite of his accumulated torture of me over the last year. But that evil twin may just do it accidentally. Take a moment to consider the name Independence Day. It literally is the day America declared its independence as a country. And while expanding that beer gut, slapping some burgers on the grill, and blowing things up may seem very American, the 4th of July is a day to celebrate our pioneers fighting for our freedom. So go out, make Uncle Sam proud, but consider taking a moment to thank your lucky American stars for freedom from taxation without representation.

There are so many more holidays I could mention. Thanksgiving, for example, seems to just be a warmup for Christmas. It's the commencement of the long holiday season that ends with a bang on New Year's. Thanksgiving is the time when people stretch their stomachs to prepare for all the Christmas cookies to come. It's the time when people plan out their Black Friday shopping trip. It's the time when they begin to buy and give Christmas presents. I was shocked by the number of friends I had growing up that would ask me, "What's your Thanksgiving gift?" All I could think was gift? You get a gift on Thanksgiving? It's not like it's your birthday or something.

Other than the large holidays, there are the smaller holidays like Veteran's Day, Labor Day, Memorial Day, and President's Day. At least for Veteran's Day my school always had an assembly to explain why we celebrate the holiday, and allowed some students' grandparents to come to school and give a speech. But I can remember really just being excited to have a day off of school. Labor Day, Memorial Day, and President's Day pass by seemingly without any meaning other than another school holiday.

Then there's Easter, which in most people's minds really has nothing to do with Jesus Christ being Risen. Instead, Easter is the time of year one gets to find hidden colorful eggs full of candy and have their picture taken with the Easter Bunny. Where did the Easter Bunny even come from? I sure as hell don't know. It was probably Jesus's pet or something.

Despite all this ranting, my argument is serious. I'm not saying Americans should stop all the sacrilegious traditions on religious holidays, or kids shouldn't be excited to have a break from school. Even in college, especially in college, I get extremely excited for time off. But, I always find a deeper fulfilment in my days off when I stop to think about the true essence of the holiday. I would advise anyone to take a moment to consider WHY you have time off of school or work and appreciate the reasons and people who allow you to have a break. Please. Before you break Jesus' heart.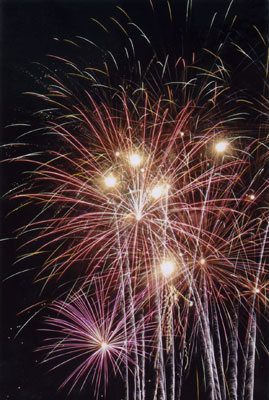 © Michael D., Hawthorne, NY