My Great Alaskan Odyssey
September 16, 2016
"No longer to be poisoned by civilization he flees, and walks alone upon the land to become lost in the wild." These powerful words were written by and about Chris McCandless, a young American traveler who escaped his family, friends, and education in favor of a life of hitchhiking across America, and eventually Alaska. McCandless influenced many people during his travels, who recall McCandless' civility and intense aspiration to have his "great Alaskan odyssey."  With the generosity of these people, McCandless finally gathered what he thought was a sufficient amount of supplies to last him several months in the Alaskan wilderness. But weeks later, his dead body was found inside of a bus that served as a makeshift shelter for backcountry visitors.
The rich and unadulterated nature of Alaska has attracted tens and hundreds of young men similar to McCandless, though not all of them met their death as McCandless did. Before visiting Alaska this past summer, I never really understood the allure of Alaska. I pictured it as a large land filled with imposingly large mountains,  rivers, trees, and many exotic animals. I pictured it as a cloudy place that poured rain and snow on its inhabitants relentlessly. I pictured it as devoid of people or buildings, as I had seen in some pictures, and a place where the wilderness apathetically watched travelers become lost, starve, and die as McCandless did.
Although my "great Alaskan odyssey" was not nearly as independent and dangerous as McCandless' was--my family and I traveled via cruise ship and stopped at several cities and scenic points with a tour guide--I came to understand why Alaska was so enticing. 
The first city we stopped at was Ketchikan, which is renowned for its busy port, present-day Native American tribes, wood industry, and diverse wildlife. In Ketchikan, we visited the Totem Bight State Historic Site, which featured distinct totem poles from the Tlingit and Haida tribes. The totem poles carved into different creatures, including eagles, ravens, bears, and whales, and they also featured a variety of symbolic colors. These variables made each totem pole truly special and representative of the legend, event, or person it was commemorating. The totem poles were placed around a dense forest containing tall, ancient trees; the trees did not seem formidable at all, to my surprise. Instead, I felt a sense of peace while amid the totem poles and trees, as well as a sense of intimacy with the land. The totem poles were smooth to the touch and truly insightful into the lives of Native Americans, while the crowded forest felt safe and tranquil. Although we were only minutes away from a road that led to the heart of the city, I felt very much removed from the chaos  and worries of human civilization.
The day after, we arrived in Juneau, the capital of Alaska. The excursion we attended was a rafting trip down the Mendenhall River that would come close to the world-famous Mendenhall Glacier. Rafting was probably my favorite experience of my entire trip, because we were able to closely observe Alaska's tinted rivers and glaciers, as well as its rare wildlife. The water was pristinely translucent, and yet it had a beautiful bluish tint to it because of the glacial silt that had accumulated in it. The glaciers were this same cerulean color from afar, but when we were able to get ahold of a piece of the glacier that had fallen off it, was crystal clear up close. We also got to observe salmon, beaver dams, and bald eagles perched on towering trees, which fascinated me. The snowcapped mountains, glaciers, and rich wildlife all seemed to be in harmony with one another, and that harmonious sentiment pervaded my mind as well.
The final city we visited was Skagway, which contains a population of less than 1,000 people but has a large presence due to its gorgeous mountains. From a distance, the mountains seem to be a lush bed of trees, with the occasional mountain goat happily eating grass on a cliff. The clouds form a halo around the mountains, creating an impression that the mountains have a sort of holiness to them. We boarded a train that travelled on the White Pass and Yukon Route, which gave us a closer view of the mountains, animals, and tinted rivers. The land used to be traveled by gold diggers during the Gold Rush, but is devoid of people now. To me, the land serves as a reminder of animals' innate abilities to adapt to and form a mutualistic relationship with the environment, which is something that continues to astound me even with so much news of human accomplishments and successes.
On the top deck of our cruise ship was a seating area with windows on all sides, and sitting there one morning I came to a realization: the huge mountains and rivers were not daunting at all, as I had originally imagined them to be. I saw the warm glow of the rising sun, the halo of clouds surrounding the mountains, and the tinted rivers, and then I saw the miniscule tourists roaming underneath them, and I thought to myself that this was the way things were supposed to be. I did not want to change anything at all. I felt blessed to be in such a rich environment, and I could not imagine that people had once come to these mountains and abused the land for their own gains, such as the corrupt gold digging companies of the late 1800s. The strong mountains suddenly became fragile and finite, and I wanted to preserve them forever.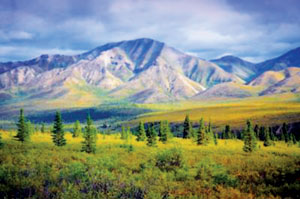 © Haley L., Anchorage, AK