Wanderlust
MAG
November 11, 2015
In the Independence Woods trailer park, a screen door opens and closes, breaking the eerie silence that currently holds America's suburbs hostage. Two combat boot-clad feet step out onto a deck protected from view of the street by overgrown shrubbery – a living privacy fence of sorts. The maroon paint is peeling. The boot-clad feet step off the deck into the dying light. Cooler air is on its way. The twilight casts an orange glow on all it touches, leaving the shadows purple, as if it is difficult to breathe without the sun's warmth.
I am attached to those boot-clad feet, and I have found myself needing to breathe, to clear my head. My prescription: a strong dose of fresh air taken as needed, at the patient's discretion.
I take a left out of my short driveway toward the hill whose slope I'll follow to the entrance of the park, a path I've trodden with unmeasurable repetition. I've been spending quite a lot of time in thought lately. I've grown accustomed to my own company. I marvel at the sky and how we so routinely take its incredible beauty for granted. I contemplate how easily we fall into routines that have a frightening tendency to consume our lives, infecting us with dissatisfaction and desensitization toward the wonders of the universe.
Wouldn't it be cool to just start walking and … not stop? See where the wind takes you and get away from it all? Take a couple of days, bring a friend or two, or even just go alone? I'd like to be one of those balloons that people set free to float with a letter and a return address attached. I think about flowing along on a double-decker tour bus in Germany, sitting on the lower level, taking in the midsummer's sunlight streaming through the windows, the windmill-filled countryside unfolding before me. I picture walking in southeast Michigan rain in my cheap, patch-covered pleather coat. I am transported to Missouri, rocky hills to my left and right as I descend into valleys, into the rolling hills of the West, leaving behind everything I know in search of something new. I am watching the morning fog lift from the mountainous forests of West Virginia, marveling at the wonder of simply being present. I'm in the arms of the one I once loved, in a sunlit hallway, whispering "I love you" into their ear, nearly crushing them in my embrace.
In this moment I realize that I want to explore forever. I have contracted wanderlust – a need to experience places I've never been before. It's insatiable; I must go. Somewhere. Anywhere. The world has gotten into my blood, and I am being pulled in all directions.
The day I stop observing, exploring, questioning, thinking – that's the day I will die. I can no longer sit still; the time for such things has passed. If I am not physically going, I am already elsewhere in my mind, likely dreaming of what could be and where I could go. And I resolve to get there.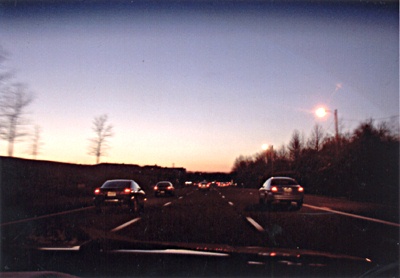 © Carolyn K., Toms River, NJ