Of Goats and Bicycles: An Irish Experience
December 14, 2008
The chinstrap's plastic tail rapped lightly against my cheek as I raced across the hilly Irish terrain. Blades of emerald grass undulated in waves along the periphery of the country road, brackish sea air permeated the coastline, and the spokes of my bicycle wheels whirred loudly. I had expected the trip from Dun Choain to Dingle to be monotonous, as the landscape was supposedly static for miles. With much joy, I soon discovered how very unfounded my notions were.
I barely registered the scenic aberration as my cycling group raced past the dated building. After a double take, an action that I do not recommend undertaking while cycling down a steep hill, I noticed a scruffy white lump moving about a garden. With a dash of bravado and an ounce of naivete, I screeched to a halt and went to investigate. While my friends relaxed atop a grassy hummock, extirpating mud from their shoes and panniers, I bounded over to the unidentified mass and peered closely. The goat stared right back.

Sally, or so her name tag noted, was attached by a rope to a garden post. I thought I was out of harm's way, but I misjudged the length of the rope; Sally rammed my calves belligerently with her blunted horns. In an effort to avoid further injury, I backed off and appraised the situation. After all, I had imposed upon her territory, but was much too fascinated by my find to retreat completely. Thankfully, Sally soon plopped down in a bed of flowers and grazed contentedly upon an array of dandelions.

As we marveled at Sally, a man came out of the building to greet our party. He explained, to our astonishment, that the group had been relaxing in front of a museum dedicated to Neolithic Celtic artifacts. He needed not speak any further to garner my complete attention; I marched on in. The curator treated us to a full tour, and even let me take a picture with a Wooly Mammoth's skull! After a few hours, my group leaders pried me away from an exhibit on archaic metallurgy. We reluctantly reentered the real world, but came away with a new appreciation for Celtic knots and weeks' worth of conversation fodder.

Excitement has a habit of transpiring where I never believe it possible. It waits around the edges of rational thought, a prospect for those daring enough to pursue it. Recognizing exciting possibilities and embarking upon them is my idea of fun. Anomalistic events, like my happening upon a Neolithic museum and its guard goat in the middle of what is essentially Irish wilderness, provide me with a readiness and eagerness to accept even the most surreal situations as completely plausible. I genuinely consider such events to be entertaining, and a great deal more fun than conventional pastimes. As I go through life, these events continue to eclipse each other in fantasticality. My appreciation for the extraordinary keeps me limitless in my perception of what is possible.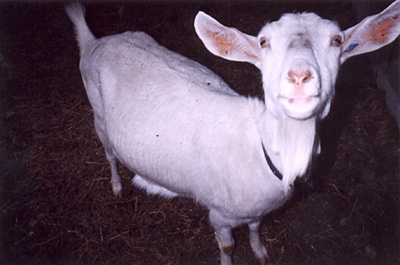 © Todd C., Wilmington, DE