Vignette: Trip to Disneyland
November 30, 2008
When most young children are asked of their favorite, most fun, place on Earth, they smile as they reply, "Disneyland". However, my family had never ventured to any of Walt Disney's havens of a child's imagination. Sure, we had been to small-scaled amusement parks with the ever-classic Ferris wheel and merry-go-round while abiding in Michigan. But we had never experienced the wonder of joy that comes with any place that has the word "Disney" in it.

My family and I moved to Arizona several years ago after my father received a new job. The move was all very rushed and hectic, the experience being a foreshadowing of the years to come. Before last summer, we had never actually taken a family vacation. We had traveled to Nigeria once, but that was only to attend the memorial service for my deceased grandmother. And out summer retreat to Europe eight years ago was missing both my mother and the latest addition to our family, a new little sister. My mother had been constantly reminding us of that fact, and often spontaneously burst out with ideas of where we could go next. "Let's go to California", she would say, "or Las Vegas!" The trips never really materialized, as it was very difficult to find a time in the year at which all six members of our family were completely free to aimlessly travel. My father takes an annual pilgrimage each summer to Africa to do scholarly research and meet with family and friends. Finally the time came; a few weeks before I began school, and a week or so after my other siblings already had begun.
Our trip was so indiscriminately random, that my younger sister didn't even realize where we were headed when we came to pick her up from school that afternoon. As I didn't have school that day, I had stayed home with my mother, helping her pack and get ready for our trip. One might say that she isn't the best planner; she had barely gotten our hotel reservations at the place that seemed the most convenient at the time. Excitement was building up inside of me, and probably even more in my five year old sister. After we retrieved all of the children, we set off on our seven hour journey to Anaheim, California. When I remembered how my old carpool told me about her secret weekend excursions with friends to California, I was almost amazed she had come back in one piece. The intersection between California and Arizona was mountainous and extremely steep. I couldn't picture myself driving that great distance. After we exited all the mountains, we began the long and monotonous journey along the flatlands of California. It was a rather eventless trip; I mostly slept and tried to catch up on my summer reading.
Late at night, so late that I was too tired to check the time, we arrived at our hotel. Unfortunately, the fact that my mom had haphazardly rented a hotel room resulted in our having a terribly uncomfortable hotel room. It was small, and had an odd odor before we ventilated the room. The next morning as we walked down the street to Disneyland, we grabbed our "Continental" breakfast; Danishes with mounds and mounds of sugary mess. I tried to tough it out with coffee, but as my luck would have it, I spilled it all over myself. The initial thrill as I entered the gates of Disneyland is indescribable. I am a long-time patron of the Disney Corporation, from the Disney Channel to their radio station (which is now filled with the most Jonas Brother-y, Hannah Montana-ish, cheesy, tween music on radio wavelength). To be finally in one of the meccas of my youthful happiness was an amazing feeling. I've always heard that Disneyland is the happiest place on Earth, and indeed it was. The fact that I had just read one of my summer reading books but only had a week left until the start of school did not trouble me. I enjoyed myself on all of the rides: Magic Mountain, The Tower of Terror, and California Screamin'. Thinking of that ride, California Screamin', still makes me smile. It is a large roller coaster in California's Adventure that includes several plunges and upside-down segments. My father and brother were fixed on riding the intimidating coaster, and I decided to try it too. Seeing my mother cringe and try to dissuade me from getting on was one of the happiest moments that Disneyland gave to me. My mom is one of the most easily frightened people I have ever met (during the only ride she attempted, Indiana Jones, I thought she was going to have a heart attack).
All of the rides and characters were fun, but the aspect of Disneyland that probably affected me the most was the fireworks program. Hearing the "if you wish upon a star" song and listening to the voice of Julie Andrews tell me that all of my dreams could come true while being mesmerized by the familiar sounds and sights of my favorite Disney classics did something to me, it changed me. It has given me a lasting hope that I still have today. It tells me something that I should probably have already gathered out of my weekly visits to church; not to despair, because a new and happier day will soon come. Because, a new and happier day will soon come. Because, dreams can come true!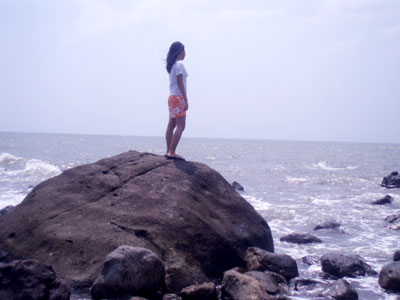 © Grace L., Bacolod City, Philippines