Heart of Haiti
MAG
October 6, 2015
I shoved my feet into my shoes and tied them. Everything I needed was crammed into my purse. I rushed down the stairs, barely making it. I turned the corner too sharply and ran into the wall, but the pain was the least of my worries. My feet never stopped until I reached my car door. I dug around in my purse searching for my keys. Finally I felt the cool metal and yanked them out. My fingers grasped the little blue and red teardrop-shaped key chain. Instantly my mind floated to Haiti.
I pushed open the massive wooden doors and walked into the oppressive heat and blinding light. Immediately all of the salesmen stared at me with hungry eyes. I tried to make myself look uninterested in their wares, but to them I looked like a big dollar sign. There were voices all around me, but they all blended into background noise. I hurried on my way, trying to find a calm place.
Soon I found myself in my favorite spot, the hallway. It was the best place in the compound. There was a great breeze there; it felt like the only breeze in all of Haiti. It was my escape whenever I was too hot or just needed a break, but not that day. That day the hallway was packed, it was not an escape anymore but an obstacle. There were more hungry vendors there with brilliantly colored art and intricately carved wood – a market buzzing with activity. I slowly walked through, looking at all the amazing things people had to sell.
Bartering is not my strong suit, especially with grown men who make a job of it. I was intimidated and somewhat frightened by their intensity. My body shook when I approached one to ask him for a price. Eventually I became accustomed to their tactics, and my confidence grew. I started as an easy target, but I ended as a sharp shooter.
I was outside for over half an hour haggling with all kinds of people. Since my money was almost gone I decided to head back inside. It suddenly struck me that I had not bought something to remember my trip by. I hurried back and scoured their goods for a small souvenir. It was then that I saw a man sitting quietly waiting for a buyer to approach. He had not tried to convince me to buy anything before, so I strode over. His little stand had all kinds of items – carved bowls, carved rocks, boxes, paintings, and key chains. I looked through them and my eyes focused on a small teardrop-shaped key chain bearing the Haitian flag. Immediately I loved it. I bought the key chain, then made my way into the quiet and the calm.
My key chain may seem unimportant among all the other items I carry, but it represents a lot to me. One glance and I am back in Haiti. I am in the place where love is abundant and hope can be seen in the smallest things. I am in a place where I am choked by the heat and the acceptance that it is a part of life there. I am in a place that will always be in my memories and in my heart. This key chain fills me with amazing joy and happiness. When I am stressed out and running through my house like a mad person, a quick look at that key chain, that flag, and I am relaxed and ready for whatever the day has to throw at me. My key chain gives me peace and rids me of worries. It may be shaped like a teardrop, but it should be in the shape of a heart because part of my heart is in Haiti and a part of Haiti is in my heart.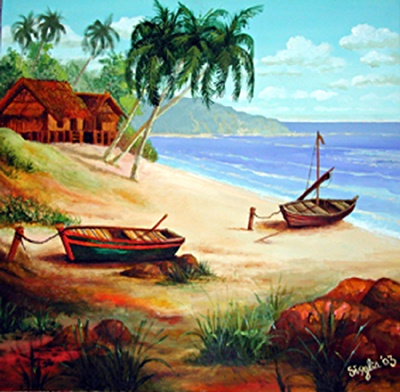 © Sisylia O., Surabaya, Indonesia