This I Believe...
January 23, 2009
Hispanics are more than just another race; they have respect and are one of the most caring people on earth. They don't take anything for granted and don't waste their days. I've learned that everyday they work very vigorously and complete the job before returning home. They work just as hard as or even harder than some Americans and deserve the right to be free citizens.
I believe different races, such as Mexicans, have the right to live in America and have the same rights as everyone else. They are just the same as everyone else and should be treated equally. The immigrants come for an improved lifestyle, education, work, respect, and freedom and I understand that completely. Americans argue that foreigners come to the United States to take their jobs. The job, for Mexicans, is what pays for their living, and what is reasonable to them.
I've learned many traditions from the Hispanic backgrounds and I find them very interesting. For example, on Christmas Eve they are not allowed to go to bed until its 12:01 in the morning, then they can open their presents then they can go to bed. Another Christmas Eve tradition in Mexico is all the parents go to the store and buy all the presents that very night, put them under the tree, and in the morning the children will think it was Santa Clause.
I've had a great experience with my boyfriend's family. They are willing to share their traditions and have a great time with me. I've been to a Hispanic baptism, where the whole thing is in Spanish and sing a couple songs in espanol, then have a big fiesta later on in the day. They dance lot, which is cool to me, but when my boyfriend (Valdo) wanted me to dance I didn't want to but I did not know how to, in the way they dance. I didn't do every step right, but I had a lot of fun while just trying. I have had a lot of different experiences that I love in every different way. I've learned that they're very respectful, like the girlfriend is not allowed in the boyfriend's room at any times. I've been dating Valdo for more than one year now and I've never seen his room. Another thing I learned was that they only eat two meals a day, which is a late lunch and a very late dinner. The dinner usually starts around nine, and at first it was weird for my stomach to adjust to the different times, but I thought it was cool to try new things and I still believe that. I love trying new foods as well, and Valdo's mom is one of the best cooks. I think some things are different by looks, but once you try a bite you just want more. I learned other things as well; you can't trust a book by its cover.
In the end I still believe that Hispanics deserve their rights as it should be in America for anyone to belong in our world of freedom. We should all listen and follow the Pledge of Allegiance, as the last couple words say, "liberty and justice for all." It's meant for everybody in our great land.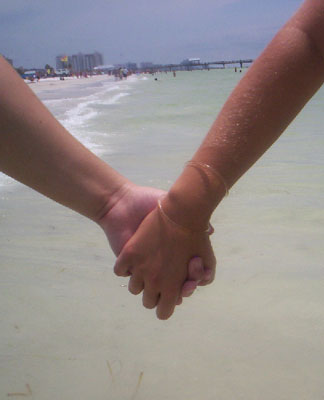 © Belinda H., Palm Harbor, FL