Seizing Our Diversity
MAG
May 1, 2015
When my parents got married, it was the happiest day of their lives. One request they had on their big day was for my Uncle Frank to yell "Kampai!" – a common celebratory cheer in Japan. Of course my uncle did it with as much gusto as my parents could have hoped for, but years later, he mentioned that it was uncomfortable for him. It wasn't because of the word's meaning or why he was saying it, but rather due to the language he was saying it in.
My uncle Frank was one of over 127,000 Japanese Americans sent to the internment camps during World War II. Like many others, his family was uprooted and imprisoned in these U.S. military-style camps. There he saw his parents struggle to adapt to a new life, saw his teenage sister have to raise the children in their family of eight, and saw his older brothers rush to join the war to prove their loyalty. While not the "normal" way to grow up in America in the '40s, it was a harsh reality for many interned Japanese-American children.
When the Japanese Americans were finally liberated, many found that there was nothing left for them at their old homes. As a result of their experiences, many turned from their heritage and assimilated their children to American life. This common reaction – being closed off, ignoring the injustice, and raising their children differently – is a result of post-traumatic stress disorder. Due to the PTSD, there was a huge separation between the Nisei (second-generation Japanese Americans) and the Sansei (third-generation Japanese Americans). The Nisei would not tell their children stories of growing up, which for them included their horrible experiences in the camps. This lack of communication resulted in a large loss of culture. The younger generation had no baseline of what it meant to be Japanese; instead, they were simply Americans trying not to bring negative attention upon themselves.
I asked a Japanese-American friend about a week ago whether she would be offended if someone called her a "Jap." She replied simply, "No." Leading up to their imprisonment, treatment of Japanese Americans was similar to that of African Americans in the '50s and '60s. Just as black people were called the derogatory N-word, the term "Jap" became a hateful word for a person of Japanese ethnicity. Yet our society seems to have lost the context surrounding the word. Too many are unaware of its dark, derogatory meaning and how it made people feel less than human. For the same reasons Japanese Americans know so little about their heritage, the word has lost its punch.
As a Yonsei (fourth-generation Japanese American), I speak Japanese, attend a Jodo Shinshu Buddhist temple, and am in contact with family in Japan. Until about sixth grade, I never realized how privileged I am to be in touch with my Japanese heritage. I assumed everyone was like me.
I believe that simply awakening a desire to learn more about one's culture can spark one to go above and beyond and explore everything there is to know. Spending a mere twenty minutes a week researching Japanese culture could be all it takes to ignite a child's thirst for more.
My uncle's thirst was slaughtered by his experience in the camps, and that affected the generations after him. We cannot allow this extinction of culture to continue. Whether you're Asian, black, white, Native American, or Middle Eastern, be proud. We should embrace the new cultures we encounter, but not at the expense of losing our heritage.
If you don't know much about where you came from, seize the opportunity to learn. If you know all there is to know about your ancestry, then keep it, pass it on, and never forget it.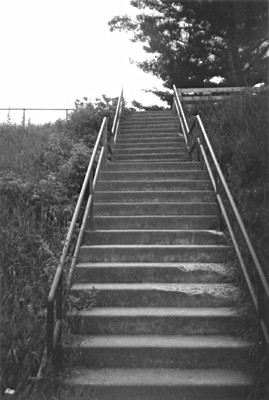 © Eva A., Eagle River, WI