New Summits
MAG
January 28, 2009
The sweetest air I have ever tasted was fresh, clean, and low in oxygen; it was at the top of a 12,441-foot mountain. How did I get there? By grasping the hands of my new best friends.

At the Philmont Scout Ranch in New Mexico a team of six scouts and I backpacked over 100 miles in ten days. Accompanying us on our grueling trek were two adults. When you have to carry an 80-pound pack, set up camp each day, and be on the trail by 6 a.m., your team members become your lifelines.

Each day we woke at 5 a.m., took down the tents, and cleaned camp. We hiked ten miles of hilly, rocky, and treacherous terrain per day. When we arrived at camp for the night, we sometimes indulged in some burro racing or an extra hike. We would set up our two-man tents and boil water for our dehydrated feast. In the meantime, other crew members would pump stream water through a purifier, find firewood, or throw a line into a tree to hang our food bags out of reach of bears.

All these activities had one thing in common: they could not be done alone. Each day a different boy was in charge of coordinating the crew so that everyone had a chance to lead.

It took every person in the crew working together to have a successful day on the trail, and having someone organize us was extremely helpful. I came to realize that for us to succeed, no one could sit around while others worked. If one of us was taking a break when things needed to be done, we would fall behind.

Through teamwork we managed to reach the highest peak in Philmont, Mount Baldy. Beautiful mountains and endless plains stretched in every direction. It was when we looked out at this breathtaking landscape that we truly reaped the rewards of our teamwork.

Perhaps the most important moment for me at Philmont occurred the evening of the third day. We had finished most of the day's work and had a chance to climb a nearby rock face. When we reached the top, I could see where we had been and where we would soon be hiking. My friends and I silently watched the sun set behind the base camp we had left days ago. At that moment I felt detached from the rest of the world, as though I had been transported to a mysterious land. The peace on that boulder was one of the most rewarding sensations I have ever felt. That experience formed a strong bond between the six of us.

The lessons I learned at Philmont did not stay there. The values of leadership and teamwork have taken new meaning for me. Today I take a more active role in leading the troop. I have also accepted more responsibility in school activities. Each day I can see how this experience changed me, and I am proud to have these memories. At the risk of sounding clichéd, I learned that to climb the tallest mountain, you need the hands of others to help you up.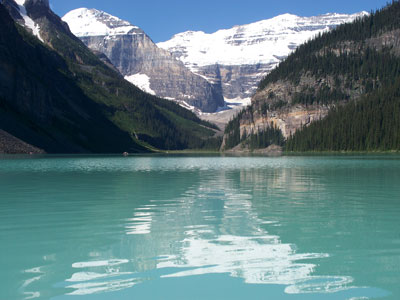 © Matthew S., Sharon, MA