French Faux Pas
MAG
August 2, 2014
"I think you take a left up here!" My best friend Abby and I turn onto a cobblestone road, crêpes in one hand and cameras in the other as we explore the streets of Alsace. I greet each person I pass with, "Bonjour! Vous sentez comme le cheval!" I was excited to use my newly learned French. While my first day in France was very much one to remember, let's just say that it didn't turn out quite as I had expected. That day marked the first two of many mistakes I would make during my time abroad.
Turns out that instead of taking a left, we were actually supposed to take a right. Instead of returning to our tour bus on time, we ended up two hours late. My second mistake was trying to speak French. The phrase I believed meant "I love your city" actually turned out to be "You smell like horse." I may have accidentally insulted the whole population of Alsace.
The next 60 odd days in France continued to be marked by more unexpected surprises – getting lost and having awkward encounters with locals. One could argue that my whole abroad experience was a cliché. Everyone gets lost, and it's basically required that you say something wrong in a foreign language, but not everyone does it as well as I did.
One of our first stops was the town of Rochefort-en-Terre, in northwestern France. The cobblestone streets in this small village are lined with bright flower boxes hung on the sides of medieval mansions. Filled not only with history, but farmers markets, antique shops, and quaint vendors, the atmosphere is special. Upon our arrival, Abby and I were ecstatic to explore. Before leaving our group, we made sure to map out directions and set an alarm to remind us when to start back. We weren't getting lost this time. I did have a pretty awkward encounter, though. While shopping in one of the many squares, I turned a corner and collided with a man who happened to be riding a unicycle … naked. Okay, well not completely naked; he was wearing a man thong, but still I classify that as naked. I not only got an up close and personal view of his front, but to this day, I still cannot un-see the sight of his backside as he rode away from the accident scene. My tip to anyone visiting a foreign country: Watch where you're walking; it is possible to run into anything!
Every year the Musée du Louvre welcomes more than 9.7 million visitors. The famed inverted glass pyramid is a must-see for anyone visiting France. Given our track record for getting lost, Abby and I were given strict instructions before being let loose. We all but ran to find the "Mona Lisa" and were soon swallowed by the swarms of people gathered around Leonardo da Vinci's masterpiece. We decided that the painting was overrated and began to search for something new. We found our way to the Ancient Egypt displays and became lost in history, figuratively and literally. With five floors and an infinite number of exhibits, the Louvre is not an easy place to find your way out of. We could have asked someone for directions but didn't want to cause offense with our poor French again. So after wandering from painting to sculpture to statue, we finally found our way back to the meeting point on time. Although getting lost in 652,300 feet of museum was pretty scary, Abby and I discovered many interesting and intricate pieces of art that we never would have thought to go look at. There's a talent to getting lost; sometimes it's a bad thing, but at times it can produce the best unexpected results.
Our next stop was La Tour Eiffel. If there's one place in France that is the least easy to mess up, I would have thought this was it. Standing 1,063 feet tall, the equivalent of an 81-story building, the Eiffel Tower is a staple tourist attraction. A visit is simple; buy a ticket, wait in line, go to the top, and come back down. Take some pictures along the way and – voila! – another thing crossed off the old bucket list. Well, turns out that it can be a bit more complicated than that.
Abby and I had been doing well; it had been a week since any unfortunate or awkward encounters, and we were feeling confident. We should have knocked on wood. It all started fine; we got our tickets and took the elevator to the top. Like all the other tourists, we inserted our euros into the coin-operated binoculars, took hundreds of stereotypical selfies, and pretended to fall over the railings.
After getting our fill, we inched our way through the crowd and assumed our positions at the end of the line to exit. Turns out there were two lines; one for all the sane people who rode the elevators, and one for the crazy people, a.k.a. those who took the stairs. We, unfortunately, had chosen the latter. After 710 stairs, we finally reached the ground. I had never been happier to set foot on solid earth. While having to walk down the Eiffel Tower was exhausting and scary, I will forever remember the experience.
After our debacles in France, my best friend and I acquired the nickname ceux muets, which translates to "dumb ones." At the time, we didn't know what it meant, but anything in French sounds cool, right? Looking back, I realize that my mishaps in France happened for a reason. If I hadn't gotten lost in the Louvre, would I have gained an appreciation for Eugène Delacroix, whose painting I happened upon while searching for the way out? I absorbed everything French – the culture, the food, and even a small amount of the language. And all the awkward encounters, forgotten routes, and lost time led to an ineffable amount of memories, which will stay with me forever.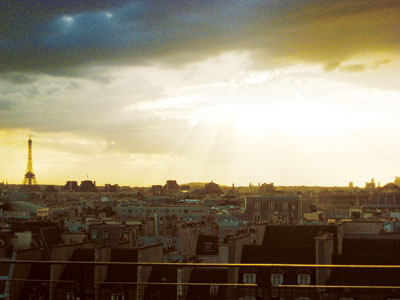 © Grace M., Montclair, NJ