The Time is the Time
July 30, 2014
"Alright, guys; the time is the time," informed our tour guide, Washy. Butterfly wings tickled my stomach as a wave of nerves washed over me. Up until this portion of our Peruvian tour, we had been participating in the typical pictures with llamas and exploring Incan ruins. Now, we were venturing into uncharted territory for the average tourist: the community. We would be helping a non-profit organization called Awamaki, which helps promote free trade and a sustainable income for Peruvian women. We were told to bring work gloves to construct a community center in the town of Ollantaytambo. My brain was going a million miles an hour with "What-if's". What if I ruin the structure? What if we are not welcomed by the community?

The bus pulled up to a "village" made of ten adobe houses with a communal courtyard. We set our bags on a dirt pile and were introduced to the women of the community who seemed equally apprehensive to meet us. They greeted us, and we were off to work digging trenches and moving rocks. The salty sweat slowly rolling down each of my vertebra was invigorating. Dust was perpetually suspended in the air making each labored breath difficult, but seeing our progress made me want to push harder.

After a few hours of manual labor, the architect pulled me aside and said it was time to take a break; this meant playing with the kids. Lead pulsed through my veins making my legs drag like weights. What if I can't communicate? What if they don't like me? The words of Washy drifted into my consciousness: the time is the time. He had meant for it to be a joke; a way to push us out the door on the early mornings. At a time of hesitation, I had found my solace. It meant the moment is here, embrace it.

I sat down on the dusty ground, cracked by the sun's intense rays. Bits of colored paper and marker caps littered the ground as the kids turned their supplies into puppets. One boy wandered over to me holding a pair of scissors and a strip of fire-truck red paper. He handed it to me without a word. I started cutting his outlined circle from the rectangle. With further inspection, I discovered the circle had familiar lines around its girth. The time is the time.

With my remedial Spanish and knowledge of Pokémon I asked: "¿Te gusta Pokémon? Mi
favorito es Pikachu."

His face morphed revealing a brilliant smile. Springing to his feet, he ran into one of the
dwellings and returned furiously rifling through a golden notebook. With a proud countenance he
revealed his treasure: a carefully drawn and color-pencil shaded picture of Pikachu.

"Es muy bien. ¡Tú eres un artisto!" I exclaimed in genuine shock of his abilities. "¿Cómo

te llamas?"

"Fernando," was the only reply the suddenly shy child granted me.

We proceeded to talk about Pokémon and his family. The other children gathered around
to talk about my life in the United States. To them, the country was an exotic place of exorbitant
excess. They taught me Spanish and I taught English until we were interrupted for lunch what
felt like ten minutes later. The lead that had once plagued my body turned to air and I walked
with my newfound levity and friends to lunch. I had done it. I had conquered my apprehension.
Fernando and I sat together over a plate of potatoes and chicken, bridging our worlds.

The time is the time. It is now. You can either embrace it and face your fears or let opportunity slip through your fingers. I choose to live with the courage I experienced when meeting Fernando, releasing my fears in order to make a friend and a positive impact wherever I travel.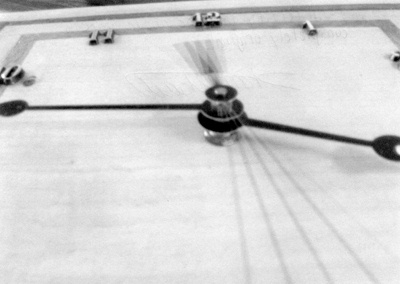 © Michael H., Milford, CT