California Bus Trip
MAG
January 11, 2014
"So, where are you guys from?" asked the jovial man with the big knife. He was smiling at us expectantly while slicing the sausage I had just pointed to.
This trip with my mom had turned out differently from what I'd expected. She had called it a mother-daughter trip to California, signing us up to travel with a Chinese tour agency she had found in the newspaper my parents pick up at the Chinese grocery store. The trip promised to show us everything there was to see in six days.
In a way, we got that trip to California. We saw the Holiday Inn in Los Angeles. We saw the small Danish-style village of Solvang on our way to San Francisco. We had two days in San Francisco, most of which was spent wandering around in the cold, in Chinatown, or both. The rest of the trip was not in California. We saw Las Vegas, the Grand Canyon, the Hoover Dam, parts of Yosemite, and various rest stops disguised as destinations.
What really fascinated me about the trip was the people. Most of the group were couples and young families from China. They traveled differently from the way I was used to, bringing fresh produce onto the bus and packing very lightly, especially the older travelers. They went to great lengths to avoid the sun, and took pictures of everything.
The tour guides spoke fluent English and Mandarin. Stories and instructions had to be repeated – first in Mandarin, then in English, though I suspected I was the only one listening to the English. I had always known that my Mandarin was deficient, but being surrounded by seventy people speaking it constantly really pointed out how disconnected I was from my heritage.
When I'm around my friends who are not Asian, I consider myself Chinese. I proudly talk about my heritage and marvel at how different I am from them. Though being Chinese-American can make me feel special, it can also make me feel separate. My parents don't care about the same things that my friends' parents do. I have different worries from theirs that are revealed whenever we have a conversation. They can catalog everything they "are": German, French, English, Polish, Italian, Irish, Scottish. They have so many different cultures that it's all become the same. Then there's me. I am racially one thing – Chinese. But sitting on a bus filled with Chinese people made me realize that Chinese is more than an ethnicity. I didn't fully belong here either.
When our group was walking in Las Vegas on our way to our next destination, an African-American man in loose-fitting clothes and with bloodshot eyes sidled up to my mother and me. Perhaps he could sense how un-Chinese I was: he started talking to me and seemed to know that I would understand.
"Man, I love this country." He grinned up at the sky. "America. Am-erica. Beautiful place." He seemed harmless. High – definitely high – but harmless nonetheless. So I answered politely, "Yup. It sure is a great country."
My mother was a bit alarmed and moved us away from the man, who was huffing on what was definitely not a cigarette. Still, when he asked us where we were from, she made sure that he knew that I was born and raised in America. "We live by Detroit. She was born there. She's American."
The man continued his patriotic love poem, and my mother continued repeating, "She's American – she was born here – my daughter is American."
For the entire trip, she told people that I was born here. It was both an apology and a status symbol. Sorry, my daughter doesn't speak Mandarin. She was born here, not in China. This country that you are all so eager to have your pictures taken in, this is her country. She is an American.
The man assembling my sandwich stares at us expectantly.
"Michigan. We're from Michigan," I answer.
His brow furrows and he falters. I hear the question before he says it.
"No, where are you from?"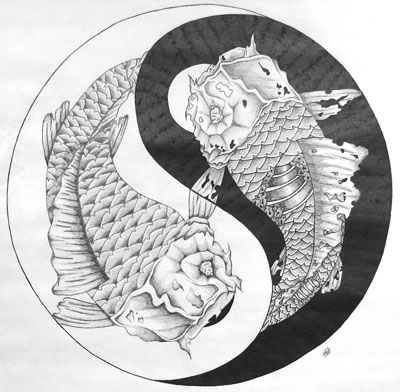 © Matt F., Pierz, MN