The Roads of Ghana
MAG
November 30, 2013
Obruni! Obruni! As I walked out of the crowded airport, weary from the long flight and time difference, three small children in tattered, oversized shirts yelled this familiar phrase and pointed at our awkward group of Americans surrounded by a sea of Ghanaians. Since this was my second trip to Ghana, I was used to hearing the common term for "white person" yelled every time a young local saw me and my missionary group.
It was in 2010 that my parents first decided to travel with my sisters and me to help set up a medical clinic in the small village of Nkonya-Wurupong. We all fit into two large vans – the kind used by the locals, called tro-tros. Our group of six kids, five doctors, a few college students, a priest, a deacon, and a couple of other volunteers grew extremely close during that 14-day trip. We drove across the country multiple times, and once we exited the capital, Accra, we began to get a sense of the poverty.
That first trip to Ghana opened my eyes to the real world. It showed me how fortunate I am. For example, road quality in the United States is completely underrated and underappreciated. Outside of the capital, Ghanaian roads are made of dirt and are full of potholes. Only expert drivers can navigate them, and it is extremely dangerous. That first time, my mother was convinced we were going to die. There are neither signs nor traffic lights, and it seems as though nobody pays attention to which side of the road they drive on. We passed a huge billboard stating that more people die in Ghana from car accidents than HIV/AIDS and malaria combined. Although using a car is unsafe, it's the only way to get around, and we soon grew used to the dangerous conditions.
Our second trip we had almost twice the number of volunteers, so our leader rented a large bus with windows stretching from floor to ceiling. This created a big change in how the Ghanaians reacted to us. Instead of being taken as Americans coming to experience their culture, which they respected, we had inadvertently presented ourselves as Americans showing off our wealth, which they hated.
On our first visit, as our two vans drove through villages, all the small children would yell and laugh and smile. We waved back and smiled, and often the Ghanaian adults would wave as well. They saw us as friendly rather than condescending. However, the next trip resulted in more negative reactions, and the contrast was astounding. In our huge, coach-like bus that many of the locals had never seen before, they assumed we were flaunting our wealth. I was embarrassed to ride in that bus since the adults would glare at us and the children's faces broke my heart.
Although we did receive negative reactions on that second journey, the locals' gratitude for the clinic was shocking. People in Nkoya-Wurupong camped out for days in order to receive medical treatment. Our last day we had an extra box of hand sanitizer. The people we'd met in Ghana recognized the small bottles as a way to prevent fatal infections. A riot started over the 50 travel-size bottles.
I learned a lot about myself and the world when I compared my experiences in Ghana with what I knew of home. As I sat in the van, leaning my head against the moist window, I saw kids as young as four mashing cassava root for their dinner, and girls happily walking miles to school because they valued their education. Nobody was sitting around wasting time on their iPhones or laptops, but rather bonding with their community, hunting grasscutters (a large rodent that is in demand for its meat), playing soccer with friends, running small convenience stands on the side of the road, or doing some other productive task. These people have so little money, but unlike us, their world doesn't revolve around wealth.
Although I did discover much about the culture and society of this West African country during both trips, I feel learned the most by simply looking out the window during those long road trips.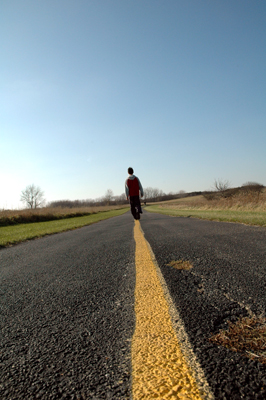 © Seita O., Palatine, IL