Jamaica
November 20, 2013
Since I was young i've been traveling back and fourth to The Land of Wood and Water, known as Jamaica. My parents is born and raised in Gravel Hill St. Ann's Jamaica near 8mile where Bob Marley is from. I wasn't born there, but I was raised into the culture of Jamaica. Jamaica is well known for their Reggae Dancehall and especially their food. Like curry chicken, stew chicken, jerk chicken, dumplings etc.

Jamaica Independence is the most significant holiday in the nations history. On August 6, 1962 Jamaica won its independence from the British colonial. they celebrate this event each year to commemorate its freedom from the British. The green on the flag represents the hope and agriculture abundance, the yellow represents the natural resources and sun shine, and the black stands for the creativity and the courage of the people.

When you say Jamaica, people think of the nice blue water, the food and people with dreads. Everyone think that all Jamaicans have dreads and their black, but that's completely false. Dreads is a part of the Rastafarian movement, it's basically a religion. Rastafarians do everything in the biblical time. They only eat fish and vegetables, they don't eat nothing with salt, don't comb their hair, wear only sandals, they eat nature grew food straight from the ground, etc. Indo-Jamaican or Indian Jamaicans form the third largest racial group in Jamaica. They were the first to be on the Island. Jamaica is mixed with Indians, Chinese, European etc. Ancestry.

I was recently in Jamaica for the summer; I go there every year. I'm glad that I can see life in a different prospective. Remember that Jamaica is a 3rd world country, so it's a lot different from America. Every time I visit there I never want to go back home. Because its lovely there, and you will never get bored. There are plenty of actives you can do to occupied yourself. If I had the choice to move there I will with no hesitation. I love being with my grandfather, uncle, and cousins, etc. and it sucks that i can only see them during the summer. They live so far away from me and the thought of me leaving brings sadness to my heart, knowing that I won't see them until next year.

I love Jamaica and everything about Jamaica. They don't judge anyone by their race nor color. There's no point of treating people differently because of there color and race, either way there still a Jamaican. One of their quote they use very often is "out of many one people, we are one." This quote explains why they don't judge one another because their all one. I will never look down on the place that my parents are from and I won't forget about my people, nor the struggles they go through day by day. I love Jamaica.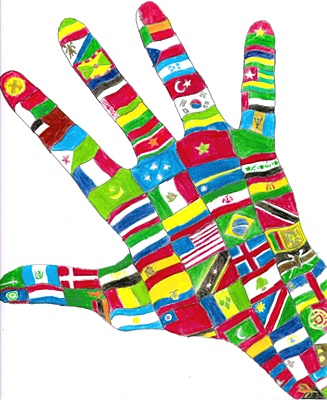 © Adeline N., Ridgefield, C