All the Way to Chinese Culture
June 28, 2013
China has about five thousand years history which is an extremely long period of time. The Chinese civilization was growing with these periods of time and it will continues greater than ever. Many wars and unhappinesses were happening during this period. Although, the time has passed, the histories and the civilizations have not passed. These family virtues, serious, working attitudes, sense of justice and the great Confucian tradition have been deeply assimilated into the Chinese people. Some Chinese traditions are different from North American's. The Chinese culture has many special characteristics which are very interesting for people to learn.
The family life is very important for every Chinese. Chinese families are very close-knit. Children tend to stay with their parents even after they get married and have children of their own, so that you often see three or four generations living under the same roof, unlike other cultures where the kids that have grown up try to get as far away from the parents as possible. However, everyone is well organized within this compact family each member of the family help each other when there is any problem and they will suffer together. The family life is quite different from North American's style, since the North Americans like to live alone when they are getting old. It is very dangerous for the old people, if there is any accident happened. Nobody can help them if the old people live alone.
The elder Chinese people are not willing to spend their final years living in an old people's home. Chinese have great respect to the old generations, who are also considered the most important out of all the generations. They will not let their parents or grandparents live alone in another environment for the final years. They will live with the old people because they could like to look after them. This is quite important for Chinese family. Parents take care of their elders(their parents) somewhat as a payment for they care their parents gave them. This causes the middle aged parents to require their children to care for them when they grow old. You can not only observe this kind of bond just in China, but also all around the United States.

In New York, it is very difficult for everyone to avoid the reality that we are indeed surrounded by Chinese culture. From Chinese take-out restaurants serving delicious Chinese food to Chinese communities such as the one in Chinatown, Chinese culture is all over the place. Chinese art, cuisine, religion, festivals, and more can all be experienced in one place. This is why New York is considered to be the cultural center of the world, featuring everything. People from all around the world come to New York for various different reasons. In an attempt to experience Chinese culture first-hand, three places in the New York area come to mind.
First, there is the Metropolitan Museum of Art (MET). It is located in the heart of Central Park. The MET provides collections of art from a variety of different cultures from different time periods. This includes a gallery of Asian art that displays Japanese, Chinese, Korean, Vietnamese and other types of Asian artwork from different time periods. The types of artwork that can be found in the museum include paintings, sculptures, antiques, scrolls and many other varieties.
The New York Chinese Scholar's Garden is another site that is filled with Chinese culture. Here, the visitor gets a great sense of Chinese architecture as they take a tour of a traditional Scholar's Garden that once existed as far back as 2,000 years ago in China. The New York Chinese Scholar's Garden is located Staten Island, New York.
The third location is a Chinese Buddhist Temple. There is an abundant amount of Buddhist Temples all across York City. A visit to a Chinese Buddhist Temple will expose the visitor to the essentials of Chinese religion. Buddhism spread into China during the Han Dynasty in year 1 A.D. and this lead to the development of Buddhist Temples in China.

Deeply rooted in Chinese culture is a system based on ethics, morals, hierarchy and behavior. In the Western culture, a sincere thank you or a thank you note is an acceptable way to extend appreciation. However, in China, a more tangible form of thank you or gift is preferred. The gift selected to show appreciation must be appropriate in the Chinese culture, and if one is receiving a gift, they should show proper gratitude when accepting the gift.

The typical way to show gratitude, similar to Western culture, would be a simple thank you ( ? ? ). Chinese people tend to prefer giving gifts in order to show their true appreciation. Some typical gifts may be alcohol, cigarettes, fruits, dried seafood, or pieces of artwork or sculptures. It is important that the gifts will not offend the recipient in any way. Never give a gift that would cause someone to lose face and place them in a difficult position. Refrain from giving gifts in sets of four or any gift that carries the association of death or funerals such as clocks, cut flowers, or white objects. In addition, do not give scissors or anything sharp as it symbolizes severing relations. When wrapping, be aware that the Chinese ascribe much importance to color. Red is lucky, pink and yellow represent happiness and prosperity; white, grey and black are funeral colors. Your good intentions or gratitude should be given priority to but not the value of the gifts. Otherwise the recipient may mistake it for a bribe.
When presenting one's appreciation, it is important to present it in a respectable manor. Gifts should be presented with two hands and given to the recipient directly. It is common in the Chinese culture that the recipient will reject your gift the first few times, saying it is too gracious and cannot except.

Like other aspects of Chinese life, cuisine is heavily influenced by geography and ethnic diversity. Among the main styles of Chinese cooking are Cantonese, which features stir-fried dishes, and Sezchuan, which relies heavily on use of peanuts, sesame paste and ginger and is known for its spiciness.

The Chinese word for rice is fan, which also means meal, and it is the most important part of their diet, with side dishes next in lone. Because they do not consume a lot of meat — occasionally pork or chicken — tofu is a main source of protein for the Chinese. While enjoying the meal many parents and elders will choose tea as their beverage choice.

Chinese art is greatly influenced by the country's rich spiritual and mystical history. Many sculptures and paintings depict spiritual figures of Buddhism.
Many musical instruments are important to Chinese culture, including the flute-like xun and the guqin, which is in the zither family.
In Chinese culture, calligraphy occupies a rather large position in the field of traditional art. It is not only used for communication, but also a mean of expressing a person's inner self.

Due to the long history and glorious culture of the country, the Chinese people celebrate a great many festivals. Various festivities show a window through which the local culture and daily life can be seen vividly. The following are the major ones: Chinese New Year, Spring Festival, Lantern Festival, Dragon Boat Festival, Mid-Autumn Day, Winter Solstice, Children's Day, National Day, Teachers Day.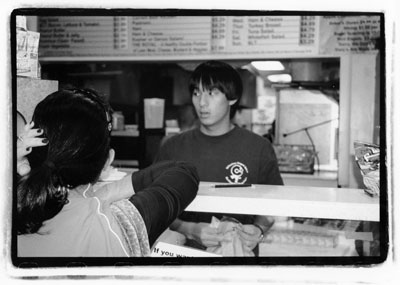 © Rachel D., Bethesda, MD