Good-Bye, Ghana
MAG
May 3, 2013
My first week away from the warmth of my home in Agona Swedru, Ghana, I twisted and turned in bed at night, the unfamiliar cold of Reno, Nevada, digging its nails into my vulnerable skin. When I went outside to listen to nature's early morning songs, the silence that hit me was worse than a blow to my jaw. My tongue refused to welcome new tastes, and my entire body writhed from an unfamiliar pain. I wasn't having a superhuman growth spurt or a severe allergic reaction. I was changing, adapting to all the new experiences that came with moving across the Atlantic to America. The only hope I had lay inside the walls of the blue stone school I could see from my bedroom window. I assumed my excitement about school would eliminate every negative reaction my body was experiencing.
I was wrong.
I walked into the row of connected classrooms with a nervous grin. My heart was beating in tandem with my footsteps, and every sound in the silent Reno elementary school building echoed loudly in my ears. Every step toward my sixth-grade classroom whispered, I can't wait. It wasn't until the door opened that I realized I could wait. In fact, I needed time to take everything in, to dissect the giant beast I had unconsciously surrendered to. But too soon I was thrust into a world of vivid colors; all I could do was gape at the sea of faces that stared back at me.
The teacher's voice seemed to bounce off my eardrums from a deep well. I caught traces of the usual "We have a new student" but with an additional "from Africa." Suddenly I became conscious of my coarse black hair and my dull gray sweater and jeans. At the mention of Africa, I was bombarded with questions about tigers and elephants. I couldn't find the voice to correct the stereotypes and clarify that the wildest animals I had seen in person were crows, vultures, and a circus baboon, so I only shook my head.
The classroom was unlike any I had ever known. Instead of the plain brown walls of my former classrooms, I was surrounded by variegated walls adorned with an assortment of posters. On one side was a marker board, an immaculate slate of white compared to the chalky blackboards I was used to. As the school day wore on, however, I took in the sounds of teeth munching on chips and whispered gossip and thought, Different isn't necessarily frightening.
That first day I returned home with a new perspective on change. The pain that had invaded my body had dulled. My mother's advice to "try to fit in" was the last thing I heard before drifting off to sleep. If I had known what lay behind the doors to my dream world, I would have stayed awake all night, but I fell asleep and dreamed of a girl whose face was hidden in dark shadows.
"You're already changing," she said. Her voice sounded amused, but with a hint of sadness. Hesitantly, I inquired, "Who are you, and why are you hijacking my dream?"
"You know who I am." She chuckled. Before I could respond, she repeated, "You're changing."
When I woke the next day, I was determined to become accustomed to the daily practices of my new classmates. I smiled at their comments, answered the teacher's questions, tried to read large books, and participated in social activities – all in my effort to fit in. I shopped for new clothes, grew my hair slightly longer, and soon my name and history were no longer an intriguing novelty. I gradually immersed myself in the life of a typical American sixth-grader.
Then, I had another dream. The dark-faced girl with the familiar voice returned. But this time, I could see her face. She was me – the old me – short-haired and dressed in a purple school uniform. When her dark, melancholic eyes gazed into mine, I saw images of buried memories: purple-clad students huddled together on a creaking bench waiting for the bus, colorful taxis zooming down the road, a group of girls eating kenkey with their hands, children chasing one another through a forest of oak and mahogany trees in the bright sunlight. A cold knot tightened in my chest, wrapping its icy fist around my heart. I realized that the pain of adapting to a new environment had sprung out of nostalgia. When the images faded, my old self repeated in a matter-of-fact tone, "You're changing."
"I can't help it. Changing is the only way I can live without pain," I said between sobs. I looked into her eyes, my eyes, urging her to understand. After a silent battle, she smiled a knowing smile and nodded in agreement.
Waving good-bye, she allowed the darkness to swallow her. I reached out to her, whispering, "I want you to stay," but we both knew I was too late.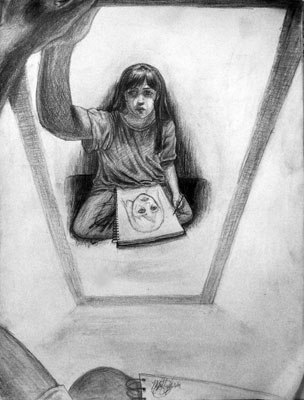 © Phyllis S., Far Hills, NJ