Here to There
May 14, 2013
I arrived at the airport, excited to go on a summer vacation. I then had to board the plane, although I didn't think that the six hour ride would be super exciting. Maybe this vacation hadn't started just yet. I knew it would be a different experience arriving to another country's lifestyle. Once I got there though, I had a feeling that Norway was going to be amazing. This country had so much personality and it showed throughout all of Norway.

Norway has many cities but, when arriving, my grandma, mom, and I first went to Bergen. Bergen was a beautiful city and while we were there the weather was perfect. If I were to summarize Bergen in one word it would be cultural. Coming from a small town in Minnesota where the best thing to do is go to the grocery store, I wasn't used to all of the culture. I found it all very fascinating and one place really stuck out to me, the fish market.

The fish market or fisketorget (in Norwegian), was very entertaining because of its many various things to look at. It consisted of many different street vendors who were selling food or other goods. The fish market, as you can guess had many different fish, but also had more exotic foods like moose meat or summer sausage made from whale. I also noticed that the fish market was the hub of the city, it was always bustling day or night and was very enjoyable.

When walking through Bergen, I also noticed similarities to the United States. The clothing was very similar to the United States although there was probably many United States tourists. The clothes also appearing in stores, were fairly similar brands of clothes. The other similarity to the United States was the fast food restaurants, like Burger King and McDonalds. Though these can be found all around the world. There may be many similarities, but one thing that is particularly different is the landscape.

One thing Norway is known for is its beautiful landscape. The city of Voss was where I saw the most wonderful scenery. My grandma, mom, and I stayed at a hotel called Stalheim Hotel. This was the most unique hotel that I had ever stayed at. What makes it so incredible is the high elevation and that it sits above a large valley. The view outside this hotel was impeccable, it was a picture perfect place. In Norway there is also picture perfect fjords.

According to Webster's New World Dictionary the actual definition of a fjord is an inlet of sea bordered by steep cliffs. The fjords were absolutely extraordinary and were nothing like I had ever seen before. To get to these fjords we went by boat through a body of water and the steep cliffs were on either sides of us. This was one of my favorite things to see because they are almost like mountains, but are rounded like a hill. The scenery is of great importance, but the cites are also very important.

Now that we were more experienced with smaller cities, we then went to the capital of Norway. Going to all the different sights and places in Oslo, I noticed that there were quite a few sculptures and also many different buildings. The buildings in Oslo were beautiful to see and amazingly made. I treated the many buildings like snowflakes because no two were exactly alike. There were many colors and shapes to the buildings. One building that I saw was the opera house with its unique architectural layout. I love that architecture is a huge aspect to this city.

Traveling to all of these cities was a great experience for me. I thought that Norway was amazing and it showed me the cultural side of things. I think that Norway has great qualities and could be a great vacation spot for anyone. Even though I didn't know what to expect from Norway it only made the trip so much better. Seeing all the great components of Norway was amazing, but I had to keep in mind that I would be boarding the plane not too long after to go back home.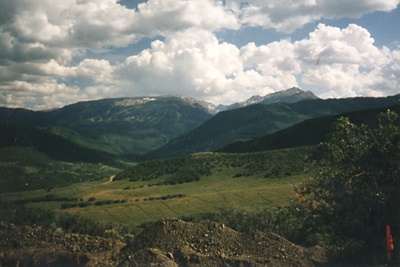 © Photo by Michael B., Denham Springs, LA