Biking the Bridge
April 21, 2013
London, one of the most famous cities in the entire world, filled with buildings from hundreds to thousands of years ago, and all we see is the dirty inside of a tube train. The trip was the first half of my family's trip to London over the summer. We managed to see stuff when we got out of the tube train, like Oxford Street and a ton of Sports Directs (also known as Chav Direct to my parents). We left London as a family but later in the summer my father, twin and I came back to watch some of the Olympics and visit my uncle. We knew without my mum there and my little brother gone that we could have some fun traveling, not really having to worry so much about prices and safety.


That morning my brother Dylan and I decided that we wanted to back to Oxford Street to look at some of the sports shops and buy some birthday presents (for my mum). The walk was a lot longer than we expected. It took us nearly 2 hours to walk from where my uncle was living, right by Jamie Oliver's restaurant "21", to Oxford Street. On our way walking there, we kept seeing bicycle racks, with blue bikes locked in with the word Barclays on them. I asked my dad what they were and why there were so many of them. He told us that they were known as "Boris Bikes", bikes that you could rent to go around London. This was an immediate realization that a lot of time and energy could be saved using these. I asked my dad more about them, he said that you check them out and return them to any other docking station in London. He also told us that we could maybe try them on the way back from Oxford Street to see what they were like. This was an instantly raised our spirits knowing the fun that we could have.


We had a sweet time at Oxford Street, shopping like there was no tomorrow and eating Subway for lunch. When it was time to leave the real fun began. We managed to persuade our Dad to let us use them and so we scavenged for the closest docking station, where you can drop off and pick up bikes, on my Dad's new app for finding them. We located them and went up the machine where you rent them out. We used the touch screen to check them out and off we were. The fun had started.


It was a pretty crazy bike home. London's streets are pretty busy and so my dad was constantly reminding us that cars were going to pop out of nowhere. We managed to make it home completely alive and in one piece and decided that we should definitely do that again.


The next morning we knew that we weren't going to stay home and we all knew the bikes were looming. We left the apartment and headed towards to the closest bike docking station. We mounted up after checking them out and off we went. That day we had decided that we were going to go to the British Museum so my dad decided to plan out the root on his phone. It was cool because the phone gave you the option to use the main roads or use the back roads. We chose the back roads and it was a blast. Weaving on the cobbled streets with the fresh, cold breeze brushing our skin, Dylan and I were constantly trying to overtake each other, racing to the destination.


We had a great time at the museum but on the way back we had the chose the perilous option of using the main roads because it was quicker and we needed to get home as soon as possible. This was honestly a lot more thrilling than back roads. You really needed to watch out for cars and beat the lights. It was a great experience. The next day we were up bright and early as usual and we were headed off to we didn't actually know where. We decided to go to Tower Bridge on bikes. We biked through the busy streets of London for about 30 minutes straight. We were hot and sweaty and ready to see the massive Olympic Rings of the bridge. What we weren't expecting to was to bike right over it! We saw the Olympic rings right above our head as we biked under them. After taking some pictures, we biked home seeing the tall, grey buildings towering above us. We continued to bike around London for a few more days and then had to leave. It was definitely an experience of a lifetime.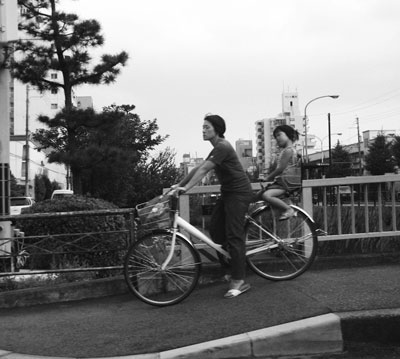 © Elizabeth C., Andover, MA