Just Another Day
March 10, 2013
The alarm beeps. I open one eye, half way. It's six thirty. I groan I hit the snooze button. Just five more minutes. It's a quarter to seven by the time I finally roll out of bed. I head to the shower. I bathe quickly. There hasn't been a lot of rain this year. We need to conserve water. At seven I am at the stove, making scrambled eggs for breakfast. Then I return to my room and pack my bag. I glance at the clock. It's seven twenty. I move sluggishly when I'm tired. I make my lunch, back in the kitchen. Two sandwiches, a bag of freshly cut cucumbers and peppers, a big green apple, a granola bar. I grab a bottle of water and shove everything into my bag. I'm going to have to run to catch my bus.

Seven thirty seven. I managed to make the bus. I stand, letting a woman with her baby sit instead. Soon I'm pressed against the wall. The busses are always packed during rush hour. A few minutes later I glimpse my friend boarding my bus. I wave to her and she waves back, but she is unable to get to me because of how crowed the bus is.

Half an hour later we both get off the bus, along with a dozen other girls who go to our school and the other schools in the area. We cross the bridge that's suspended over the morning traffic then walk down the street to our school. It's eight fifteen. We're on time.
I meet two other girls in my class on the way up the stairs to our school building. We talk excitedly to each other. It's Sunday and we haven't seen each other for two days. There's a lot to catch up on.

My legs ache a little by the time I reach my classroom. The teacher, of course, is late. She arrives at eight twenty five. There are still only nine out of thirty two students in the classroom. Israelis are notorious for being late.

Most of the class trickles in as we say our morning prayers. The rest of the girls arrive in the first few minutes of class.

The teacher drones on as I try to stay awake. Jewish philosophy is not my favorite class. I sneak out my notebook and start studying for civics. We have a test tomorrow. I glance at my friend sitting next to me. She's doing her math homework. The teacher doesn't notice us, too busy scolding a girl who was texting her friend sitting on the other side of the room.

The bell rings. It's ten after ten. Time for brunch. Israelis eat at ten and two, as opposed to early morning and lunch. I eat my sandwiches on the way downstairs. My friend wants to go buy food from Yossi, our cook. I try to avoid buying his food when I can. He's not the best cook. My friend buy a baguette filled with vegetables and cheese, plus a bag of chocolate milk, which is how we drink it here.

I hurry back to class for my elective, art history. We talk about impressionists, and Van Gough. The art teacher is my favorite teacher. I love how she is really passionate about what she does.

Next we have Jewish law, taught by the principal. I like her too. She's really funny. We spend most of the class complaining to her about how there's never enough toilet paper in the bathrooms and how the school needs to spend more money on heating the hallways. We joke that it's colder inside than it is outside. Sometimes, that's true.

Then we have history. We're learning about the holocaust. I glare at the girls in my class who are talking. The teacher is very emotional while she teaches. Her father is a holocaust survivor. The bell rings. It's one forty. Time for lunch. I eat the rest of the food I've brought and go to sit outside on the grass with my friends. The weather is finally warming up. Jerusalem is waking up from winter and welcoming spring. I tell my friends how my brother is starting his army service tomorrow. He'll be in an infantry unit. My mother is terrified. I'm proud. My friends are quick to start talking about what their sibling did in the army. One girl's brother is in tanks. Another's sister is in Intelligence.

We walk back to class slowly, relishing the sunlight. We have another period of history.

I grin when the bell rings again. I get to go home. Everyone else has English, but since I speak English I finished all the tests early, last year. Me and two other girls who are English speakers wave to our friends and walk to the gate. We wait for our guard to buzz us out. I notice the gun tucked in his back pocket. My friends cross over the bridge but the bus I take going home stops right in front of the school gate. I'm glad. I hate climbing the stairs to the bridge.

It takes considerably less time to get home, since there is no traffic at three in the afternoon. The bus is still crowded though, with all the kids coming home from school.

I get home and grab a snack before heading to my room. I have tests to study for, but first I need to catch up with the internet. Email, Facebook, YouTube, Twitter and then to watch some TV. I manage to get in a little studying before it's time for dinner. At seven I get a phone call from a family I babysit for. The mother begs me to come watch her girls for a few hours so she can run some errands. It's short notice, she acknowledges, but her husband was just called up for reserve duty and she has no one else to watch the kids. I agree happily. I always like having a bit of extra cash. Besides, I love her children. They are adorable.

I walk the fifteen minutes to her house, but am sure to have my bus pass in my pocket because I know I won't feel like walking up the hill to my house at ten PM.

I get home close to eleven. True to the nature of an Israeli, the mother was forty five minutes late getting back.

I sit back down in my room a little after eleven, after kissing my mom goodnight. But I don't go to bed. Instead, I call my friend and we talk for an hour until we drag ourselves away from the phone because it's getting very late. Its midnight, and we have school tomorrow.

Grudgingly I turn off my computer and stick my iPod into the wall to charge. I'd never get through all the bus rides without music in my ears. I change into pajamas and get into bed. I read for ten minutes till my eyes are drooping. Then I turn out the light, and go to sleep. Tomorrow everything will start again.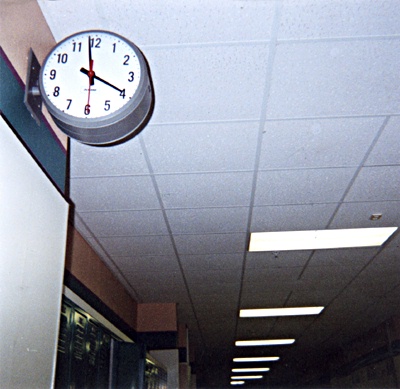 © Blake B., Highland Village, TX