Palestine
MAG
February 27, 2013
My childhood was rooted in my visits back to my homeland: Palestine. My relatives resided in a small village in the West Bank called Kofr Kasem. There, they waited for a little American-Arab and his parents and brothers to arrive. They waited for their own blood because that's what family did.

There was a lot of blood in Palestine, spread from home to home. I came home to cousins of my blood ready to drink shai (tea in Arabic). Uncles and aunts would lift me up, landing soft rose petal kisses on my cheeks, calling me habeebi, my darling or baby, and placing me on their laps.

I couldn't name all of my cousins; there were too many. Each family visit involved meeting people for the first time, but realizing we've been connected our entire lives. Our lives – so far apart but so close – were forever calling each other's name.

I can see the white tiled front yard of my grandparents' home. Those searing hot squares seemed smaller each year until I felt I was suffocating in that tiny, hot yard but I was fine with it though. My grandmother's presence would push down the walls for me until I could breathe again. She lives so fully in my mind.

In my natural Palestinian habitat, I realized how unnatural I felt. I was the tiny stranger in a bustling crowd of friends. I was the party guest everyone's heard of, but no one has met. I was the tourist, armed with fanny pack and sunglasses. So I lived the role. I was different, and I brought a bag of different. I shared my different because they liked it. They waited for my different.

Back in my homeland, I ate up the sun and let the light from my belly illuminate my surroundings; there were dark little bugs and light little plants. Both poked in and out of the dirt of the village. There were walls with barbed wire and walls with flower pots. Both lined my neighbors' homes. There were candy stores and checkpoints. Both required frequent stops.

Palestine – where the land has heat and the heat has weight – bears the branches of my family.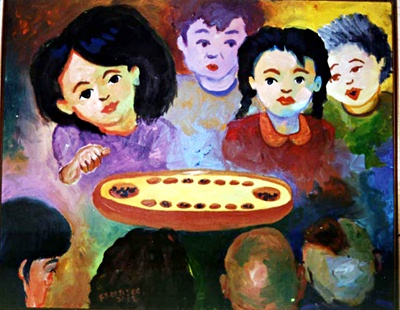 © Fransisca A., Surabaya, Indonesia