Nameless Face
MAG
January 20, 2013
You were probably on your way to meet up with some friends. You stood ten feet from me; I could see your smile as you talked on your cell phone. I wanted so badly to walk up to you and strike up a conversation, but I was paralyzed, I could only stare at you. Some part had to do with your beauty; the other was that I was with my family being dragged around Times Square on a tight leash. Figuratively, of course. Gosh, how godly you looked bathed in sunlight. You were the biggest billboard for me, shining a bright neon light on a late evening. I would feel a slight rush of shame if someone pointed at me, as if to say, "Hey buddy, there's a girl staring at you nonstop." I know I would have been ashamed if you had looked at me but another part of me wanted so desperately for you to look at me, to notice me, to acknowledge me. Even if you had, I would have quickly looked away and pretended I hadn't seen you. And maybe you'd continue staring a bit longer too.

Alas, none of this actually happened. I knew you lived here in New York, knew you passed through this street every day talking on your phone and going somewhere exciting. You appeared to lead an exciting and adventurous life. But I was just another tourist dimmed into the swarm of all those around me. I was part of the background to you. A blurry dot of color in your peripheral vision. A pointless memory to keep in your mind.

Even though we'll never meet again, you inspired a beauty in me I'll never forget. I thank you for that. If you happen to remember an annoying, lost tourist on a particular evening in Times Square, that was me. You passed right by me. "I'm on my way," you said. Yes, you are on your way and I am on mine. We are the lines that intersected once, but will never cross again.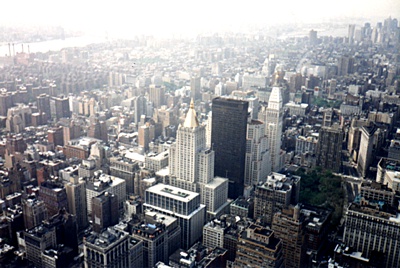 © Kristen L., Wilmington, DE