Geek Alert: A Tourist Attraction for all of Geek-kind
January 11, 2013
A short time ago in galaxy not so far away, I came upon the epitome of all geek-dom, the Toy and Action Figure Museum in Pauls Valley, Oklahoma. Pauls Valley held a series of meetings in 2000 called VISION2010 with the goal to improve the community. This nonprofit establishment was created as a tourist attraction to bring in more visitors to Pauls Valley and was finally opened 2005. Over 13,000 actions figures call this place their home. From superheroes to classic television show characters, this museum has it all.

When you first enter, your eye is drawn to the bright and unique walls covered in superhero decals and thousands of actions figures surrounding the exhibit. It is truly "nerdvana" for any fan of superheroes. As you walk through, the figures are set up in such a way that it appears as if there the characters are in a battle frozen in time. Even a few actions scenes from superhero movies, such as Captain America, are set up in display cases complete with scenery. It's as if at any moment these characters will come to life.

In a space called the "Playroom", costumes, masks, and even a few gadgets are hanging in closets and waiting in drawers ready to be worn by any visitor strolling through. Even a few action figures and playsets are available for younger audiences to enjoy. A pizza hotline at the hotline station stands by in case of a pepperoni emergency.

If you venture further into the museum, you will find yourself in the Batcave with as much Batman mementos as one could hope for. A kid size Batmobile is perfect for a photo opp for the family. Posters of the Batman movies along with portraits of his rivals cover the walls. Playsets, action figures, advertisements displaying Batman's evolution over the years fill this legendary Batcave. Robin and a few super villains have their collectibles shown as well.
The most impressive part of this attraction is the diorama. An entire section of the museum is set up much like a child's bedroom where everything is covered action figures. A small television is set up in the center and shows classic superhero cartoons. The geekiness factor soared even higher when I saw the Comic books that lined the wall behind the diorama space.

Many other surprises are to be found as visitors explore this museum. Movie memorabilia such as cardboard cutouts, reproductions of movie props, along with a few life-size characters are hiding around every corner. Near the entrance of the museum, there is a collection of artwork by Oklahoma cartoonists on display giving viewers more insight into the contributions that Oklahoma has provided to comic books and comic strips. As the visitors exit this attraction, a gift shop with geeky gifts such as action figures, t-shirts, and other trinkets can be purchased. This is an attraction is a must see for all families of geeks, nerds, and action figure fans alike.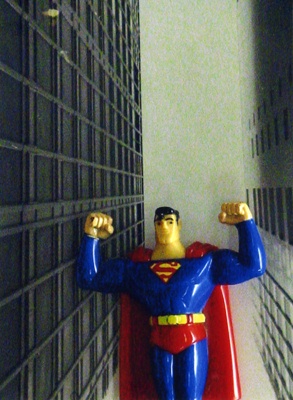 © Andy O., Highland Village, TX