St. John
December 20, 2012
About two years ago my family and I took a vacation to St. John in the US Virgin Islands.
We went here because it was my mom's 50th birthday and she wanted to go somewhere special.
First arriving at the islands we were greeted by islanders playing tropical music and handing us drinks.
After getting out of the airport we took a ferry from St. Thomas to St. John and got our jeep we rented. We drove the jeep to the big pink villa we rented and unpacked all of our luggage and supplies. My parents got the master suite followed by my aunt who got the next best room and we kids got our own personal house on the side of the villa. My cousins and I sprinted down the sandy pathway, through the thicket right up to the crystal blue water. The water was perfect; perfect temperature and very clean.
After we got back to the villa we settled down, ate dinner, and played cards. The next day we went to Trunk Bay where we snorkeled. We saw the bright and beautiful coral reefs and all the sea animals that inhabited them. Some animals I saw were colorful fish, spotted stingrays, and silly, very fast squids. The next day we went to cocoa bay which wasn't as nice as trunk bay but was still very intriguing. The following day was my mom's and aunt's birthday. All my family was there and everything was wonderful. My mom hired a chef who cooked juicy steak and delicious red snapper. Also there were plates and plates of appetizers such as different types of cheeses, fruits, and meats, all excellent.
I wrote my mom a poem which brought her to tears when I read it to her away from the chaos of the party. There was music, games, swimming, and lots of dancing. I, of course, hung out with my cousins and played more Euchre. Also we swam in the swimming pool. I had a lot of fun that night and the vision of how happy my mom was will always stay in my mind. The next day we all relaxed by the beach and my aunt Kim rented a charter who gave us a tour of the places in the Caribbean. We got to go snorkeling in some very dark caves which were awesome. Then they took us to Tortola in the British virgin islands and got to see Devils Bay where my sister, dad, and uncle jumped off a thirty feet high bolder into the ocean. I, a little less daring, jumped off a ten foot boulder. After we all regrouped in the water our guides toe got bit by a fish it was kind of funny. I guess you could really say it was Devil's Bay. Also we traveled through some caves carved out by the ocean long ago back to the trail leading back to the boat.
The guides then took us to this private island that was only for yachts. I got fries there to take back but soon remembered that in order to get back I had to swim through the ocean up to the boat, so that was something. After everyone regrouped back on the boat they drove us back to St. Johns. After that it was another day of relaxing then back home. We took the ferry back to St. Thomas and then took a taxi to the airport where we boarded our plane and went home changed. We were changed for the better and with a mind at peace longing to go back to the heavenly and peaceful island that was St. John.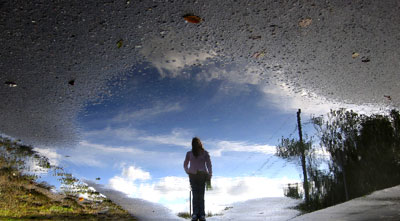 © Daniel H., Oak Bluffs, MA