Adventures in Africa
October 28, 2012
This past summer was a big summer for me. I had previously mentioned to my mom that I wanted to travel the world. Luckily for me, my aunt and uncle own a travel agency. My mom mentioned to my aunt that I'd like to travel more and immediately she offered to take me to Ghana with her. I was shocked. Ghana? Never in my wildest dreams had I pictured myself going to Africa over the summer. I'd figured, maybe I'd do some kind of volunteer program in college, one that I wouldn't have to pay for. Yet here I was, being offered a trip to Africa. Of course I said yes.

Before I knew it, my aunt was sending me information on the trip. My aunt and uncle's travel agency specializes in choirs, and the choir coming on my trip was a high school one. I could honestly not believe my luck. First, we were going to London. The choir was following a specific triangular slave trade starting in Virginia, then going to London and soon after to Ghana. So we started our adventure in London. London was absolutely beautiful. The people, the buildings and the food, all were amazing, but nothing could prepare me for when I stepped off the plane and into Ghana.

I had begun to make friends with the kids in the choir, and thank goodness, because when you're in a country you've never been in, one that has a different culture and different ways of living, it's good to have friends. The whole trip I was in awe. The people were some of the friendliest I'd ever met, and probably will ever meet. The food was amazing, the countryside was breath-taking. When we drove in our tour bus, we could look out the window and see people selling items varying from shoes to bed-frames. There were women walking alongside the roads with heavy items on their heads and babies on their backs. There were some women who would walk alongside traffic in the city, and would sell food through car windows.

One day, we visited a church, and inside were the liveliest people I think I've ever seen. There were incredible prints on the women's dresses, and everyone was singing and dancing. It was amazing. I've never seen a Church like that one in America.

Another day my travelling group went to a school, where the students would surround us and ask questions about ourselves. We were able to walk around the school and visit the different classrooms. The classrooms in Africa are so different from the ones in America. They still use chalkboards, and every classroom is full of kids. Somehow, those schools seemed almost beautiful.

Everything in Ghana was beautiful. I don't know if it was just my excitement, or if the people make it beautiful. Either way, I had a wonderful time and hope to someday return to such a beautiful place.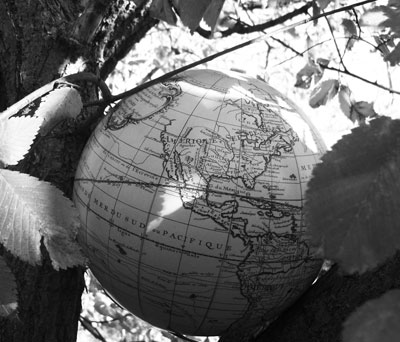 © Ella H., La Vista, NE