Graffiti Protest
MAG
October 25, 2012
En toma. ("Taken.") Spray-painted across the biochemistry building. Spelled with Post-it notes from the windows of the philosophy building. Lucho. ("I fight.") Written in faded chalk on the sidewalk. Marcha, Oct 11, 12 horas, todas invitadas. ("March, October 11th at 12 o'clock, all invited.") Scrawled across the side of an overpass. Educacion gratuita. ("Free education.") Written everywhere.

At la Universidad de Concepción in Concepción, Chile, I saw the cries of students trying to fight for something that is possibly one of the largest internal conflicts this country suffers: the fight for free, public education. I honestly know little about the topic. I've asked questions, and it seems to be something that people don't like to think about. But every day on the news there is video footage of protests, often violent, plaguing Chile's capital, Santiago. Schools en toma (literally meaning in taking) are often destroyed from the inside out by student protesters living on the school grounds and blocking others from entering the for-profit places of learning.

I did not see anything to that extent when I was in Concepción, but I did see the graffiti. The vacant buildings, coated in posters. It intrigued me. Perhaps what was most intriguing was that the few people on campus didn't seem to notice any of it. As though they were used to it. Outside there were five pillars, and one letter of the word lucho had been spray-painted on each. A girl sat on one and smiled for a picture.

Some friends of my host family took me through the campus, and as we passed the buildings, all they said was, "That building is en toma," and moved on. The next day I asked if I could go back to take pictures. We returned, and my friend said, "There's a garden and pond over here for taking pictures." They hadn't understood. "No," I said. "I want to take pictures of the buildings that are en toma."

I think graffiti tells a lot about a country and its conflicts. In addition to the education struggle, los Mapuches (an ethnic group indigenous to Chile) are fighting for rights. I watched los Mapuches protest in Concepción. I saw the graffiti written on walls.

Past political conflicts can be seen spray-painted as well. An obscene comment about the past dictator Pinochet. An "Alessandri lives" message. The graffiti jumps out at me while the people walk past – silent screams and opinions without owners. To me it feels that individuality is less valued here, and the solidarity of the people is strong. Maybe they're caught between living their collective culture and speaking their individual opinions. So they write where it can be seen but remains anonymous. Where only a foreigner would stop to read that la lucha continoa ("the fight continues").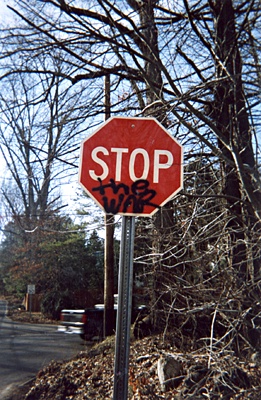 © Jillian K., New City, NY