And here the weather changes.........
October 22, 2012
The sky looked clear, with white pearly patches beautifully enhanced by the dynamic ferocity of the sun.... The different hues of the sky were structured flawlessly and the shades of auburn, yellow and vermilion perfectly blended with the large expanse. It looked as if it was a painted picture, with colors blended magically by divine hands....

A cool zephyr blew through the trees, as they danced to its tunes. The trees lined in the fence looked as if the army men stood in straight fold path, with pride and dignity. The bougainvillea sprawled luxuriously over the fence and their lantern shaped magenta flowers added a glorifying color to the scenery as they blended harmoniously together.

The whole atmosphere was in solitude and tranquility. The lake shimmered like a bed of diamonds and the sapphire-emerald tinted water looked crystal clear a sit sparkled in the luminescence of the sunlight.

It was calm and peaceful, when suddenly the wind started getting harsh as it blew like a whirlpool, swirling all the leaves and bougainvillea with its magnificent intensity. Even the still water started to dance to the tunes of the wind.

There were grey patches in the clouds, dissolving the sunlight, transforming the whole bright atmosphere into a dull, gloomy one. It looked as if someone had dropped black paint over a flamboyant, scenic painting..

I rolled my eyes towards the sky and saw the birds fluttering their wings vigorously in order to rush to their nests. A drop of water fell on my cheek and i twitched my eyelids. It had begun to drizzle; the water had those circular waves as each raindrop fell on the surface of the water, losing its subtlety and structure. There was an unpleasant smell in the mud, as it soiled and the dampness created humidity and a gooey stink all around.

A sudden flash of a lightning sparked up, as I was terrified by the sound which seemed to be prolonged and felt as if the sky was cracking, creating the frantic noise. A thunderstorm broke out and it rained like cats and dogs, flooding the lake, destroying the bougainvillea and moreover taking away the mesmerizing beauty of the landscape..... It felt like the trees had lost their green color and it felt as if a beautifully painted sketch had transformed in a plain, bare pencil sketch.....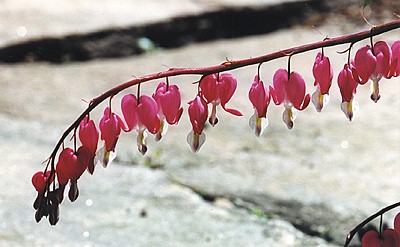 © April P., Newark, DE