A Dollar for Your Dreams
MAG
August 1, 2012
It was thirty minutes before midnight in the French Quarter – nearly New Year's Eve – yet the night was still young. The sky was illuminated by fleur-de-lis-engraved gas lanterns and store fronts, as twinkling stars peeked over the high-rises. Drunken tourists combed the corners while shadowy figures lurked in the alleys, anticipating the perfect opportunity to initiate a heist.

My father and I made our way down Rue ­Dumaine. A dark-skinned girl my age sang gospel songs by a stroller in which her baby boy lay bundled in blankets against the chilly breeze. She attracted a small crowd who graciously applauded and dropped coins and bills into a tip box under the stroller.

We took a right at the corner, and my eyes grew wide with awe and anticipation. I saw half-naked men dancing on bar tables, mannequins in store windows dressed in Victorian fashions, and sweet-smelling voodoo huts. Massive crowds surrounded a little boy who tap danced on Coca-Cola cans attached to his sneakers, and gravitated toward a couple playing bluegrass tunes on makeshift saw-violins. We were on the infamous Bourbon Street.

And then I saw him. He had set up a cardboard box with "Tips" scribbled in bold red marker. My attention shifted to this young man, new to the block, setting up to perform on the dimly lit corner of Bourbon and Bienville. He was preparing for an evening of ruckus in the city that upstaged Sodom and Gomorrah. He looked to be in his early twenties, and oblivious to the inebriation that surrounded him.

He pulled out his shiny saxophone and began to play "When the Saints Come Marching In." The music flowed effortlessly, and as he played I found myself drawn to him as if in a trance, while a large crowd collected. A woman, beer in hand, gurgled out lyrics to the song. "Thank you all," the musician said in a thick Cajun accent, and the joyful noise recommenced, followed by genuine applause.

Without hesitation, I reached into my purse and dropped a dollar into the tip box amongst the other crumpled bills. As quickly as he had set up, he was gone. I never got his name, but I like to call him Louis, just because.

That night wandering aimlessly through the French Quarter solidified the goals that I have for my life. I once believed that coming from an underprivileged environment, one would be at a disadvantage to achieve greatness compared with someone born into boundless opportunities. But then I experienced New Orleans and met people whose dreams transcended singing gospels and playing the saxophone on the corner of Bourbon Street. I am no different from these street performers – I am standing on a corner too, showcasing my talents to the world with nothing but my dream and my instrument – knowledge in my case. Witnessing such talented and creative individuals performing on street corners further reinforced that even if I have to start on a lowly street corner, my dreams will not be deferred.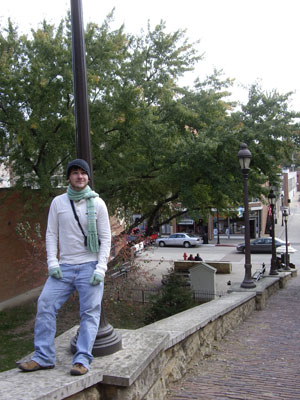 © Abby T., Princeton, IL