Amsterdam: The famous capital of the Netherlands
June 25, 2012
The famous capital and the largest city in the Netherlands with a metropolitan population of 2,289,762 . Amsterdam is located in North Holland and is named after the river Amstel.

Amsterdam: The Venice of the North.
There are more than 100 kilometers of canals, about 90 islands and 1,500 bridges in Amsterdam. Some of the major canals in the city are Singel, Herengracht, Keizersgracht and Prinsengracht.

Amsterdam: The city of architecture.
Amsterdam is a fascinating architecture mixture of the 17th century and the modern architecture. Most of the 17th century-inspired buildings are made of brick and the modern-architecture buildings don't have any specific material that are made of, but the shapes and the heights of these buildings are various.

Amsterdam: The city of the legalized prostitution.
De Wallen is a designated area for legalized prostitution and Amsterdam's largest and most well known red-light district. It is a famous tourist attraction.

Amsterdam: The city for shopaholics and fashion lovers.
There are lots of shops in the city, such as souvenir shops, clothing shops, entertainment shops (books, tickets, etc.), house stuff shops, flower markets, super markets, chocolate shops, sex shops and many many other shops. There are many fashion brands from there, like G-star, 10 feet, Warmenhoven & Venderbos and other, and fashion designers, such as Mart Visser, Viktor & Rolf, etc.

Amsterdam: The city of bicycles.
Amsterdam is one of the most bicycle-friendly cities in the world, with bike paths and bike racks and several guarded bike storage garages. Also, driving a car in Amsterdam is discouraged, because parking fees are expensive and many streets are closed to cars or just one-way. But lot of people are using the local transport, because it is fast and environmentally friendly.

Amsterdam: The city of cannabis coffee-shops.
Coffee-shops are establishments where the sale of cannabis for personal use is tolerated by the local authorities, but in small quantities. Coffee-shops are allowed to serve alcohol or other drugs, but they serve food and non-alcoholic drinks. Strong cannabis (THC higher than 15%) is banned and tourists are not allowed to enter any coffee-shops anymore.

Amsterdam: The city of culture.
Amsterdam has plenty of famous museum, like the Van Gogh museum (the artist's work), the Rijksmuseum(Dutch art) and others, all located on the Museumplein (Museum Square).
Amsterdam has many bars, from large and modern to small and cozy. There are lots of different ethnicrestaurants, too.
Many different festivals and events are taking place almost every year in Amsterdam, such as the Queen's day, the Holland Festival for the performing arts, the Gay Pride, the Cannabis Cup, etc.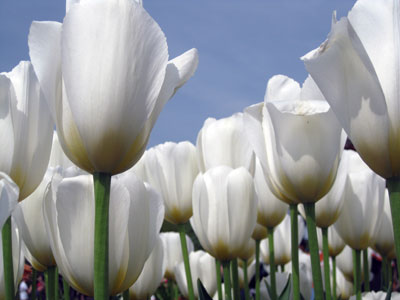 © Amanda S.