Giselle
May 28, 2012
The curtain lifts and what you see is a setting in the forest complete with two cottages on both stage right and stage left. You can tell that the ballerinas will dance all around the stage, judging by how much little scenery there is. You can imagine big leaps and jumps and movements that regular people couldn't even think they could do. As soon as you digest the setting, Giselle has begun.

Giselle's plot was a classic love story with a twist. Boy meets girl and they fall in love, but this story as a twist. Giselle finds a suitor named Loys, who is secretly a count named Albrecht who has a fiancé. Giselle falls in love with Albrecht. Giselle finds out at the village's harvest celebration that Albrecht is a count and engaged when Albrecht's soon to be father-in-law and fiancé stop for refreshments in Giselle's village. She is so heartbroken that she dies. When she dies, she is summoned from her grave by Myrtha, queen of the Wilis'. They find Hilarion roaming the forest and throw him in a lake. Albrecht finds Giselle's grave and Myrtha sentences him to dance until he dies. He begs for mercy but it's not given. Giselle's love saves him from dying.

Giselle is a main character. She's a peasant in a valley near a vineyard. She is Hilarion's love interest. She loves to dance but her mother is concerned if she dances too much because of her health. She falls in love with Albrecht but then dies from heartbreak when she finds out Albrecht is engaged.

Loys/Albrecht is a main character. He is a count and Giselle's love interest. He is disguised as a peasant to win Giselle's love. He is engaged to Princess Bathilde. He turns into the villain when he lies to Giselle which gives her a broken heart.

Hilarion is a supporting character. He is a woodcutter in the valley. He is in love with Giselle. He exposes Albrecht's secret to Giselle during the Harvest celebration.

Berthe is a supporting character. She is Giselle's mother. She cares for Giselle's health and is concerned when she dances too much. She invites the Duke of Courland and Bathilde to her cottage to get refreshments when they come through the village during their hunting trip.

Wilfrid is a supporting character. He is Albrecht's squire. He warns Albrecht when his fiancé and father-in-law are approaching.

Princess Bathilde is a supporting character. She is Albrecht's fiancée. She is on a hunting trip with her father, the Duke of Courland when she finds Albrecht and reveals to Giselle that he is her fiancé.

Duke of Courland is a supporting character. He is Princess Bathilde's father. He is on a hunting trip with his daughter when they stop at Berthe's cottage for refreshments.

Myrtha is a supporting character. She is queen of the Wilis'. She is a ghost who makes any man who crosses her path at night dance until they die for revenge on men.

Wilis' are supporting characters. They are girls who have been jilted by men or have died before their wedding day. They take revenge on any man they cross at night by making them dance until they die.

The technical elements made the ballet much better. The costumes were simple but just right for the setting. They had earthy tones like browns, greens, and light blues and the royalty had very elaborate costumes such as long cloth cloaks with fur trim and lots of colors like purples, greens, and yellows. I think the costume designer wanted the costumes not be very elaborate for the peasants because they're peasants and they wouldn't be able to afford a lot of special details. The royals' costumes fit their title perfectly. Because purple is the color of royalty, the designer used a lot of it on the Duke and the Princess. At first when I heard about the Wilis', I thought they were going to look like zombie brides. But really they were only girls in white dresses that had crowns. It reminded me of the swans in Swan Lake. There didn't seem to be much make-up on the dancers. I would think the designer didn't want to take away from the effect of the dancing so the make-up wasn't distracting.

The set made you feel like you were in the middle of the woods, watching the villagers celebrate their harvest. The stage had portals that were painted like a forest. The scenic designer probably made these choices because they setting is in a valley which has lots of trees. The props they had were flowers, a sword, a table, chairs, fake food, and a horn. The props did look believable even though you could guess that the food wasn't real. The horn looked like someone had just carved into a short elephant tusk. I believe the table and chairs were made out of real wood.

The lighting wasn't anything special, just a faint spotlight on the main dancers. The lighting designer probably thought too much light and effects would take away from the dance.

There weren't very many special effects but there were some. There was fog when the Wilis' came out and when Giselle was summoned from her grave. He probably thought that some effects like fog were okay but didn't want to overpower the dance.

All in all, Giselle was a very great performance. The costumes and set all fit the atmosphere of being in a valley. The movements were precise and looked effortless. The dancer who played Giselle committed to becoming her character and it showed. It has sure come a long way from 1841, when it was choreographed, to now, in 2010. The story hasn't changed and neither has the magic.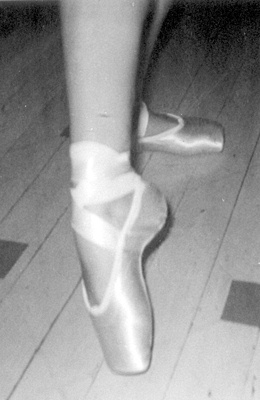 © Amelia B., Philadelphia, PA