How We Got On
May 27, 2012
If you like to watch new up and coming plays with that also have a hip-hop flavor with a side of humor, this play is for you. Even if that's not what you have in mind for a play, it will take you back down memory lane. "How We Got On" is a play a part of the 36th Humana Festival of New American Plays performed at Actor's Theatre, very similar to the Youth Performing Arts School's New Works Festival that occurs every spring. This year's Humana Festival includes ten different American plays each running from March until April.

"How We Got On", written by Idris Goodwin and directed by Wendy C. Goldberg, is about the start of hip-hop and rap that slowly made its way to the Midwest. The play chronicles three teenagers in 1988 and their aspirations and fascinations with the new genre. Hank (Terrell Donnell Sledge) is an African-American fifteen year old teen whose family was a part of the first batch of African-Americans who moved from the city to the suburbs called the Hills after Ronald Reagan's first term. He becomes enticed by rap and begins to write rhymes. Julian (Brian Quijada) whose stage name is Vic Viscous, is a Latino fifteen year old who has also moved to the Hills from the city. When Hank and Julian have a rap battle, Julian demolishes Hank's hopes of being a rapper. Soon after they team up, because Julian cheated in the rap battle and Hank threatened to expose him, and record demos on Hank's boom box. Julian then discovers the world of beat boxing which gets them some recognition. Luann (Deonna Bouye) is a very rich fifteen years old with an NBA father who lives in the Hills. She discloses to Hank that she can rap even though her father disapproves. Luann begs Hank to let her record with him and Julian but Hank is hesitant at first. Once she offers to teach him how to rhyme without paper, he can't say no. Julian and Luann clash because Julian doesn't want her to rap with them. Luann and Hank record together while Julian starts to focus on basketball after his father says he's going to send him to his mother who lives in the city. In the end after some persuading, Julian lets Luann record with him and Hank. During the whole play, the Selector (Crystal Fox) serves as the narrator and poses as several different characters like Hank, Julian, and Luann's fathers and miscellaneous kids in conversation, throughout the play.

Because the main aspect of the play was about hip-hop and rap, I believe that the sound designer had the most important job. When the audience members walk in, the Selector's albums of classic hip-hop from the 1980's were playing. I think this set the mood for what the play was going to be about. In the play, the use of microphones was only used when Hank, Julian, and Luann were battling or rapping their songs. I think Matt Hubbs, the Sound Designer, chose to do it that way because the play was performed in an arena theatre so audience members shouldn't have a hard time hearing in the first place. When microphones were used, it symbolized that the characters were on stage and in front of a crowd which was a good choice in my opinion. The Selector also used a dynamic moving coil microphone, a microphone that deejays at radio stations typically have. To me, this made the Selector seem more like a deejay and not a narrator.
The use of pre-recorded music wasn't used as much as I thought it would for a play of this genre which surprised me. When the Selector played her albums, I wasn't sure if they were actually playing on a turntable and the turntable was amped or if it was a pre-recorded cue. All the rest of the pre-recorded cues were recordings in the actual play like when Julian and Hank listened to one of their songs on Hank's boom box. I think the Sound Designer chose to that because he wanted the play to be more authentic and live. In one instance, the Selector demonstrates how a certain sound mixer works. She uses the voices of all three actors to create a mix but the best part was that it was live and really demonstrated how the sound mixer worked in actuality.

Another technical element I think was important was the costumes. Even though there was only one costume change, which bothered me a little, the costumes the actors wore portrayed what fifteen year olds in 1988 would actually wear. Hank wore a green scoop necked t-shirt underneath a blue plaid flannel button up with jeans and Puma sneakers. He was always seen with a boom box or a small steno notepad in his pocket with a pen. That showed his dedication to writing his rhymes. His costume also portrayed his personality. He had big rectangular tortoise shell glasses that showed that he wasn't very hardcore like most rappers shown to be. He didn't have the newest pair of Air Jordan's like most of his stuck up classmates had. Julian wore a red, white, and blue Adidas track suit with Reebok hi-tops and always wore a red Detroit Wings hat with the brim flipped up. Luann wore a pair of green, navy blue, red, and yellow plaid pleated pants with a matching tie, a cream colored sweater with gold buttons and matching purse, blue dress shirt, a red beret, and black polished 1950s shoes. Hank described her in the play as one of the stuck up rich black kids who thought rap was "ghetto" and dresses like it in my opinion.
The Selector seemed more modern in my opinion because she wore a black jacket, jeans, high heeled black boots, wide glasses, and a pink scarf wrapped around her head. When I first saw her when I walked into the theatre, I just thought she was there to deejay the pre-show music. I didn't think she was a part of the play because of her costume. If I were the Costume Designer, I would've but her in an Adidas track suit with matching Adidas hi-tops.

Looking back at my mother's outfits from the 1980s, Connie Furr-Soloman, the Costume Designer, did her research on outfits to use for this play. When people talk about the stereotypical dress for the 80's, Adidas and Air Jordan's and track suits are what come up. I think Connie Furr-Soloman used some stereotypical pieces because the play is very humorous and she wanted to add to the humor. That was a great choice in my opinion.

"How We Got On" was very simplistic in almost every technical design way but I believe it worked for the play. Even though it was a part of the Humana Festival, if you didn't know, you wouldn't have been able to tell. Actor's Theatre has a very diverse audience and very diverse plays to go along with it. "How We Got On" fits with the typical schedule that Actor's Theatre uses. There were some technical aspects of the play I didn't like but overall it was an outstanding play. It was humorous and is also a coming-of-age story with powerful spoken word elements. I absolutely loved "How We Got On" and would recommend it to anyone especially anyone who wants to learn about the origin of hip-hop and rap or who just loves the 1980s.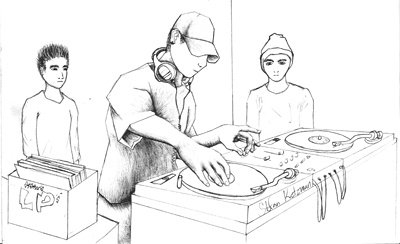 © Stefan K., Philadelphia, PA