Fire, Bombs, Serenity
May 24, 2012
On April 28th, 2012, I took a trip to Fort Pickens in Pensacola, Florida. I had been to a fort in Delaware called Fort Delaware which was very similar to Fort Pickens because it was filled with horrors, misery, pain, and sorrow. Even on a sunny day you couldn't help but take off your hat to acknowledge the dead soldiers. Fort Pickens was built in the late 1820's and completed in the early 1830's. It was actually used in battles in the 1860's, used by the union against the confederates. The Union didn't want the Confederates using the Pensacola bay to their advantage by using it for their Navy ships.

The fort is on its own peninsula in the Pensacola bay surrounded by gorgeous white sandy beaches with heavenly turquoise water that could make a person feel like they were swimming in their own perfect dream. Although when the wars and battles were abroad the beach wasn't as peaceful. The fort still has lost souls creeping down the halls and secret bunkers with their cries for victory. Learning all the history to the fort and beaches just makes people feel in suspense when they leave and will want to know more when they return.

An interesting fact I learned from the fort is that Geronimo was held prisoner there but the cell he was contained in was destroyed by hurricanes and erosion. Other Cherokee Indians were held prisoner there as well to work the canons and fight in the battles. The weapons would be placed under lock down by guards when there were no battles so that way no prisoner could steal any and use them for rebellion. It would take more than 20 men to pull a main canon into position to keep a target on the enemy. Once the battles were over the Indians were shipped to Oklahoma due to a rumored disease spreading amongst their kind.

Walking down the halls of the fort can make a person feel like they're actually there when the fort was originally built and getting setup for battle. Or if someone dashes down the secret tunnels it's like their hiding from the enemies seeking them out. But in some rooms that are pitch black on the inside but bright as day outside a person can feel what it was like for the prisoners being locked up. All throughout the fort there's information podiums about the significant sites to read about and what went on there.

My trip to fort Pickens was unforgettable for the most part. I would definitely want to take another trip back and learn more on what really happened. I am half Indian so learning about my ethnic group being held prisoner there is something I would definitely look forward to research about. Many people will find this place very unique and interesting some people even find it romantic. Bridal pictures have been taken at the fort which makes this fort very well known to learn about while having the time of your life.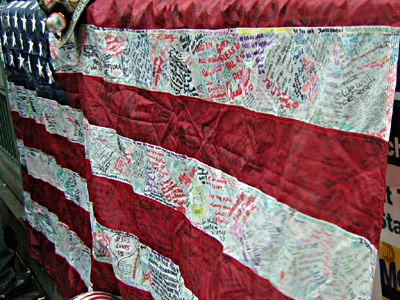 © Brittan S., Chino, CA