Four Reasons to Visit California
May 24, 2012
I believe there is only one state in this country where you can find a warm beach, live in the mountains, and see a desert. This state is California. Having been born and raised in San Diego for the first three years of my life, I have been a beach girl from an early age. Over the years, I have made frequent visits to my aunt who lives in San Jose. For my seventeenth birthday, I was able to visit my family in California. This time, five years after my last visit, I was older and had a new perspective on the beauty of nature. Now that I am older, I have a nicer appreciation of shopping. Nature's beauty such as trees older than Christ and beaches with the boardwalk open in the middle of winter are nice, but another major reason I enjoy visiting California is In 'N' Out.

Reason #1: The Redwood Forest is the place for you to be if you want to see the oldest trees ever, older than Christ, but not older than the dinosaurs. My mom really wanted to see the Redwood Forest. When we visited the Redwood Forest, I was amazed at how old the trees were. The trees were taller than any tree in New York State. Some of the trees were so big that my aunt, my mom, my uncle, and I could all wrap our arms around the tree. The most amazing part about walking through the Redwood Forest was walking inside a hollow tree. There was this one tree that was used as a hotel room. Yes, a hotel room. In the 1800s, a family could live inside this tree because the tree was so big. As I was inside this tree, though, it was so dark that I don't know how anyone could see very well while being inside a tree.

Reason #2: The beach's boardwalk is open all year round and has a beautiful ocean. The closest beach to my aunt's house is Santa Cruz. After an hour drive, my mom and I stepped onto the boardwalk on Santa Cruz beach. The boardwalk was like a mini-fair, with all the rides. I was able to ride one of the oldest roller coasters in the country. After going on the roller coaster ride, I went into the water. Yes, two days before the new year, and the water was freezing. Although the water was cold in the winter, in the summer, the beach would be crowded and much warmer. The beach was beautiful, with the gentle breeze, light blue color of the water, and a smooth blanket of thin clouds in the sky. There are many beaches along the coast of California, and all of them are just as nice as Santa Cruz, some are even better.

Reason #3: Shopping centers provide you with stores you can never find in your small hometowns here in New York. When most people think of department stores, they think of JC Penny or Macy's. Yes, California has those stores, but California has stores such as Bloomingdale's, Neiman Marcus, and Nordstrom. I never even knew what Neiman Marcus was until I visited Stanford Shopping Center. Now I know that although it is a fancy store, Neiman Marcus doesn't have an elaborate "teen or juniors" clothing section. Nordstrom is my new favorite store, for they have great Holly Ball and Prom dresses. Down the street from Stanford College is this huge outdoor mall called Stanford Shopping Center. They have all the designer stores that have great sales. Before I visited California over Christmas break, I asked my friend what stores she thinks I should go to, and she recommended that I visit the Juicy Couture store. After bringing my mom into Juicy Couture store, I decided that the Juicy store had decent sales and really high quality styles. Designer brands such as Louis Vuitton, Coach, Betsy Johnson, and Juicy Couture may seem expensive, but actually have some really high quality clothes. Along with all these designer and department stores, Stanford Shopping Center has all the typical stores such as Sephora, Abercrombie and Fitch, Macy's, and J. Crew. Another awesome store that's only located in California is Frys. Frys is an electronics store that sells videogames, computer parts, and all things relevant to technology, and is the size of a huge department store. There are many other shopping centers in California, as nice as Stanford, yet the Stanford Shopping Center is quite big.

Reason #4: Discover the secrets behind finding good food. One secret is that on almost every other street corner and every exit on a California expressway is a fast food restaurant called In-N-Out. In-N-Out makes all its food fresh, which means that while you are waiting for your food, you can watch the patties being made and the French fries being peeled from the potato itself. This restaurant has a secret menu, such as a black and white shake and an animal burger. If you'd like to know what an animal burger is, I guess you will need to visit the west coast. In-N-Out is not only in California. This restaurant is a family-owned restaurant with locations in Texas, many in Nevada, many in Arizona, and many in California. Once you visit this restaurant once, you have to go back again. In-N-Out's burgers are a main reason I want to go back to California. The closest thing New Yorkers have to an In-N-Out Burger is either Red Robin or Five Guys.

These are the four reasons one should visit California. California is a great place to visit any time of the year. Even in the winter, the beach is still a lively place to be. No matter how many times one person visits the Redwood Forest, it is hard to comprehend how old these trees are. Every girl loves shopping, and for those who don't get overly enthusiastic about shopping, there are plenty of nice French cafes and restaurants near the shopping centers. Always remember: a visit to California is not complete without a trip to In-N-Out. Maybe for a summer vacation, consider planning a trip to California.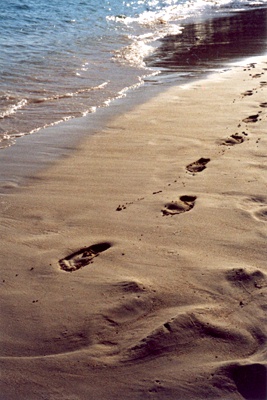 © Ashley B., Potomac, MD