Putting in the Celebration in Variation
May 22, 2012
The sun is shining brightly and mercilessly down upon me. It's summer, and the loo is as strong as ever. The lone golden sands stretch on for miles and miles, farther than the naked eye can see. My lips curve into a smile as I spot a group of Bedouins atop their camels, waving cheerfully at me. *CLICK*. I wave back, reciprocating the overwhelming feelings of warmth and friendship, of family, and fitting in.
I wander about my huge subcontinent, lens searching for the exquisite marvels that define my amazing country.

Up in the snow kissed peaks of the Himalayas, I trail my lens onto a particularly unusual sight. The limited sunlight is harsh and unfriendly, but as I take in the woman dressed in traditional robes, complete with the exquisite tribal jewellery, I am rendered speechless. Here are the people I can look proudly at, the ones that have preserved their culture, without an ounce of shame. Her skin is wrinkled, and eyes, sunken, but the smile that comes through to me is the same warm one I've received from every friendly soul I've encountered till date. She looks at me, and I wave to her, pointing at me camera, waiting for the nod of approval. It comes, and then *CLICK*.

With a melancholy ache somewhere deep in my heart, I go back to searching for the people who define my country, and yet regretting the pain of probably not being able to meet all these wonderful people again.

I'm staring at the bluest waters I've ever laid my eyes on. I walk along the beach, feet sinking quickly in the soft sand. Now I'm on the smaller of the two exquisite islands of my India. I dig my hands in the powder white sand, laying my camera aside, searching for the prettiest seashells on this beach that I aim to carry with me on this journey. I succeed, and feel happiness surge through me as I go through my finds. One is round, smooth and purple; and the other, creamy, with jagged edges. My attention shifts from the beautiful shells to a group of boys playing football beside the sea. I walk over to them. The late sun is low over the horizon, and it makes the perfect setting indeed. My subjects, dark and almost indiscernible, just enough so that all unnecessary boundaries are blurred, and yet they all feel like one, with brilliant hues of soft pink, purple, and orange as the background. *CLICK*. Smiling contentedly, I proceed to walk back to my self-declared spot on the shore, and gaze at the gentle tame waves that are washing against my ankles.

So many terrains, and yet all roads lead to the one of friendship, warmth, variety, and kindness.

Now I'm in the land of the sweetest language one can find, drinking in the hustle bustle of the markets greedily with my eyes. It's the perfect ancient setting one can expect to find anywhere in India. Modern at heart and still impeccably retaining its traditionalist features, I am surrounded by true heritage and culture. I walk over to the coast and dodge hundreds of fish vendors, all slapping their fish on the worn stone slabs in front of them, or cleaning and cutting them up, haggling loudly to attract the most customers. The cheap yellow lanterns flicker weakly as I cut my path through the chaos. Right next to the steps descending towards the mighty Bay of Bengal, I see a boy of about 10, meticulously cleaning his fish with utmost precision. I see no customer there, which saddens me. I walk over to him, and buy 3 of his fish, without the slightest idea of how they're going to end up. He smiles up at me and starts packing up the fish with his small yet experienced little hands. The boy is immersed in his menial task, long eyelashes casting even longer shadows upon his cheeks. *CLICK*. He hands the package to me, a grateful and ecstatic smile lingering on his face. I ruffle his hair and bid him goodbye, with a sad little smile of my own. Who knows what is to become of him? I pay him double the money I ought to and walk away, with a slightly heavier and more feeling heart.

Somehow the scene has still not entirely disintegrated even as I find myself in the holiest city of them all. But yes, I'm zinging with energy to discover this city, and dive into its popular confounding hidden crooks and corners. This marvellous olden city boasts of the heavenliest paan (sweet tobacco), along with serene ghaats and wondrous evening aarti (prayer). I can almost feel the fragrance of this city's delicacies lithely wafting through the air and tempting my taste buds to near torturous. After a full and satisfactory lunch, I stroll leisurely through the streets that need much repair. Forget all roads lead to Rome. All roads lead to the ghaats that are lit us with thousands and thousands of shimmering diyas that light up the entire holy river Ganges. My camera would be inadequate to capture the atmosphere of festivity in the air, but still, managing the best I can, I *CLICK*. After a few satisfactory shots, I descend down to the ghaat myself, light a diya, and set it gently in the river to sail. Who knows what is to become of it, or where it will end up?

This is my country, my India, where every moment is an occasion, and every day is a celebration. Here's a toast to my country, because at the end of the day, we put the celebration in variation.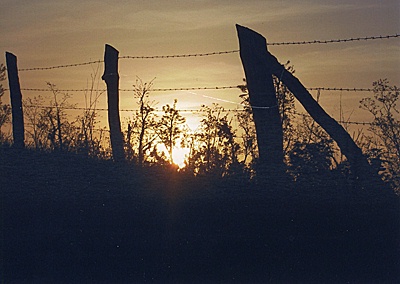 © Michael T., Letart, WV