Hippie Capital
May 16, 2012
This is a place where people's heads are up in the sky, and in a different world. They are here, but not really. They have different spirits, and different energy. They have creative ways of expressing themselves, and of showing their talents. These people are radiant. They are beautiful.
This place is the definition of diversity. And this place is a beach with beautiful scenery. Beautiful water. Beautiful hills in the horizon.
The tropical trees and perfectly warm temperature of the air creates a relaxing environment. This is a beach where hippies gather. They bat on drums and dance in tribal ways.

The vibrant people express themselves by their attitudes, the way they dress, and the way they act. They have carefree attitudes that are also strange in a way…for they are unique.

Some barely wear anything but some wear obnoxious, ostentatious clothing. The way they act is not stingy, for these people mean well. They can't think of ever harming someone or something. Their personalities are drawing and contagious. It makes others want to feel free like they do.

Some people make interesting positions and poses. Some find the peace in this, in their form of exercise and meditation.

The art seen here is incredible. There are sand sculptures that are intricate and unworldly. There are shops where people sell their passions. There are police to monitor these innocent and harmless souls who are just trying to express themselves.

The music. The music is really where these harmless souls get lost and where they find themselves in a trance. This is when their heads are in space, above the sky.

Certain beats and certain tones send an impulse through their bodies. This impulse creates a surge of vulnerability and pleasure. It flashes dopamine and serotonin through their bodies. This inexplicable, extraordinary state that is experienced is just from the music.

This is a place of many different types of people, but still similar in a way. They all want to change the world. They want to create a social movement. They want people to feel what they feel and to sense the happiness they have.

These people are neither forceful nor persistent. They simply just act how they act, do what makes them happy, and express their feelings in their own ways. For some it's basketball, or art, or poetry, or skating, or music, or yoga, or gatherings. Others, just watch. They examine these different creatures with powerful spirits. Some are freaked out. Some are interested. Some are transformed.

Sometimes it's just the people that make it a place. This is one of them. Because what really makes this place special, is the people. This is the definition of diversity. This is the land of extravagant people. This is Venice Beach.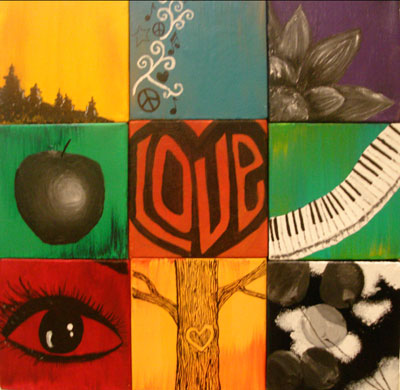 © Christina E., Henderson, NV