Experience of a Lifetime
May 11, 2012
"Ladies and gentleman, may I have your attention please? We will be departing for San Jose, Costa Rica shortly." I listen intently as the pilot announces our imminent departure. I feel my nerves bubbling inside of me. I've been waiting for this moment for 3 months. It was the longest wait of my entire life, but finally I'm heading to Costa Rica! After being selected to represent the Region 3 soccer team in an international tournament, I had been researching, packing, and anxiously watching the days until I leave wane, until it was actually happening! After an uneventful 4 hour flight, I landed in my first foreign country ever.

I was beyond ecstatic to be on this trip. Being with a soccer team, I felt comfortable and welcomed with my group of friends. The entire team was pumped to be in Costa Rica. Not only were we going to be able to do the thing we love- play soccer- but we would be touring the country as well as assisting in a local orphanage. Prior to departing, we had been told to bring along items that would be useful to the orphanage, such as toys, candy, or school supplies. The trip to the orphanage was at the end of the week, and I could hardly contain my excitement!

The next few days were absolutely incredible. Along with playing soccer against international teams, which was an experience all on its own, we had the privilege of viewing the beautiful country. Riding on a tour bus, we observed gorgeous religious buildings that gave off ethereal feelings, a fantastic new soccer stadium, and hundreds of carvings. At the end of the tour, we got to experience the true heart of Costa Rica. The team exchanged their money and went shopping at a local market. "Come to my shop! It's got the lowest prices around!" Shouts and persuasions were tossed around like a hot potato. I felt myself being tugged in every direction! Everywhere you looked, there were wood carvings, beautiful jewelry, comfortable hammocks, and of course, kind, caring people. The hour we had to spend at the market flew by way too fast! I could have spent all day in that cute buzzing place, but our time had come to head back to the hotel.

After the market trip and country tour, the next day on our schedule was labeled "Free Day." Guess what that means... We went to the beach! It was beautiful beyond belief. The water was so blue and so clear. The sky was just as gorgeous. Trees swayed all around us in the light, warm breeze. A feeling of peacefulness blanketed over me, warming me along with the brilliant yellow sun. I was in awe of the entire sight. Never in my life had I seen or been anywhere so amazing. The whole day I allowed myself to relax out on the beach enjoying the company of my friends and the gentle wind blowing across my face. I did not want to leave, so when the guide came and awakened me from my daydreams, I felt very disappointed. That feeling quickly disappeared when I remembered that tomorrow was the day of the visit to the orphanage!

"Beep! Beep! Beep!" My alarm hollers to bring me out of my peaceful sleep. I groggily press snooze and roll out of bed. I think of the day, and snap! I'm wide awake now. The team is heading to the orphanage today! I quickly pack my gifts for the orphanage and head down to the team bus. We depart early. I sit with my best friend in the entire world, Ella, who I've been playing soccer with since age 5. Our excitement is mutual. When the orphanage pulls into view, we give a little squeal of happiness. All the girls pop out of the bus and race to deliver the gifts and supplies. The managers of the orphanage share their story with us, and it seriously brought tears to my eyes. I was told that the children of this orphanage either have no parents, were abandoned and found on the streets, or their parents are too poor to care for them. The supplies that we bring will help provide for the children for the next year. I had so many mixed feelings. I was so proud and happy that I could help these poor children, yet I also felt selfish for having so much while these children had so little. After spending a few hours with the kids, I felt so much wiser and more grateful for what I had. I know that's such a cliché, to be grateful for what you have, but I really believe in it now. The Costa Rican children were so beautiful, happy, and cheerful even though they had so little materials to provide that happiness. They were joyous from the opportunity to live their life, not from the things they had in it. Just realizing that made my eyes water. People around me in this society base their happiness off of what they have. Spending time around the children in Costa Rica made me realize that although they may be less fortunate than me with the opportunities around them, they are far wealthier than anyone I know in happiness and the love of life.

My trip to Costa Rica was truly a life changing experience, not only because of the soccer opportunities and because it was my first foreign country, but due to the fact that the local people taught me to appreciate life as you have it. I also had the amazing privilege of touring a beautiful country while doing my favorite activity in the world- playing soccer. Although my trip was only a week, I feel like I learned a lifetime of lessons. If given the opportunity, I would encourage everyone to visit a foreign country. It is truly unforgettable, and you will come back home a much wiser person. I know I would do anything for a chance to go back to Costa Rica. My friends and I bonded so much, and the trip gave me a chance to meet and help new people. Even to this day, I can still picture the smiling faces of the little orphan children. Just the thought of them smiling with joy has the power to put a smile on my face even on my toughest days. The impact that this trip left on me is so powerful, and I would give anything to have another one just like it.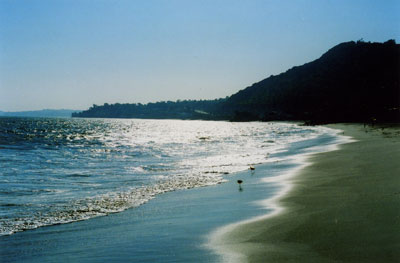 © Adam L., Washington, DC