My Week in Hawaii
May 1, 2012
A couple of years ago I had the amazing opportunity to go to the beautiful island of Hawaii with my family. We stayed on the big island in Kona, which was absolutely the most amazing place I've ever been to. Hawaii had everything from beautiful beaches to amazing food. What more could you ask for?
The minute we stepped out of the plane, we felt a welcome that one just does not get in many places. We got out and immediately people came and greeted us and handed us beautiful, handmade leis. They were beautiful and the best thing about is that we could watch as the ladies made them one by one. It was incredible to see how these people that we had never met before just came up to us and put one of these flowery necklaces around us with a big smile. We could not help but smile back and wish you could stay there forever.
After we got there, we rented a car and went off to our hotel, where we would be staying for what I thought too short a time. On the way there, we could see where lava had oozed from the volcanoes and had formed into rock all alongside the road. We saw many donkey crossing signs but no donkeys. We did though manage to see some goats and a marvelous array of birds. I had never seen so many species of birds with so many colors. When we did finally manage to get to our hotel, again, the hospitality shown to us was like no other. The following day we had breakfast on the little patio at our hotel. The wind was blowing and I believe I have never been more relaxed than on those days eating breakfast outside with my family.
Of course, we had to find out where the famous beaches that everyone talks about were. Honestly, there is no way to describe the beauty of the sea. The sand was white, the water was blue, and the sun was golden. Spending the day at the beach just takes away all my worries and relaxes me as I know it does for others. Just sitting there, reading a book, there is no comparison. When I get in the beach and feel those crisp waves hit me, it makes me forget about everything. We spent a good amount of time at different beaches and picking out our favorite few.
My family does not like to stay in the tourist area, so we like to find places where the people of the island hang out. We started driving to a beautiful little city, and on the way there we spotted some amazing waterfalls. It felt like I was in a movie and all I could think about doing was going out and exploring but we had to get to the city. As soon as we got to the city, there were a ton of things to do. We went to the cool little island shops and we visited lots of different places. It was really worth it to go out and explore. We also got to ride a yellow submarine, which was quite exciting considering growing up hearing the Beatle's Yellow Submarine song. We even got to go to a luau and experience the delectable food!
Hawaii, up to now, has been one of my favorite places to travel to. The island is really indescribable. Their culture is in every way beautiful. They have amazing people, marvelous beaches, and great food. I've never been to a place quite like Hawaii. I wish I were still there and I most definitely would love to go back!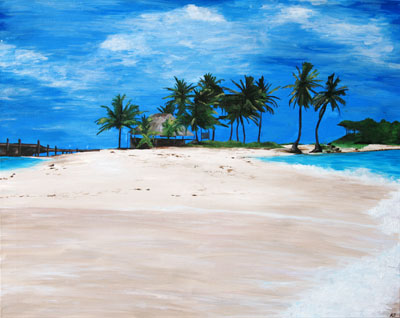 © Karen S., Norwalk, CT