Say Hello To America, Frenchies!
April 24, 2012
So there I was standing outside of the school, along with my other 10 anxious friends waiting for the arrival of our French pen pals. I could barely keep my composure; All day long, no all week long I had been been waiting for this moment, not paying attention in class, staying up late picking the perfect outfits, these next few days meant so much to me and it was finally here! So many things were running through my head. ! There were things like will they remember me from the times I talked to them briefly on Facebook? Will they think I'm cool? Will they be able to speak any English? Are they going to be cute? How do I greet them? Will they want to talk to me? What will I do with them when the 2 boys I signed up for to stay with me? I was going crazy!

Then there it was, a coach bus pulling into my high schools long entrance .Before I had a chance to relax I had to pull it all together. Unfortunately I failed! I was literally screeching, and squeezing whoever was next to me! Hitting them anxiously I was freaking out. ! The bus pulls to a halt and the breaks squeak. My stomach was doing extreme back flips and my heart was beating fast. The door opened as if a bus full of celebrity's had just arrived. One by one each French kid steps off the bus, some stretching and looking around, and others immediately grabbing their luggage. Then right away I saw him the one boy I talked to on Facebook the most, who surprisingly speaks very well English. Squeezing the kid next to me I whisper in a high pitch squeal "There he is! That's him! That's Theo!" "Who? Which one, there are so many!" "The tall one, over there! With the superman shirt". Oh my gosh, the one walking right up to me! I quickly brush my hair out of my face and smile big, I say hello and follow his lead as he kisses me on both cheeks! Wow that was unexpected. I'm used to a hand shake when meeting someone for the first time, maybe even a hug, but a kiss already. As I watch the other French kids greeting the American ones I see them all kiss them on both cheeks so I follow everyone's lead and do what is "normal" to them. Then I see my actual Pen pal, the first boy staying with me. He is short with wavy hair flipped to the side like Justin Bieber and he's wearing a very preppy colored shirt and sweater vest. After saying hello to Jean-Baptiste who goes by JB, I watch as he flags down the other boy who I have spoken with on face book, the second boy who is staying with me. Being the opposite of JB, tall, and dressed in more lose, sporty clothing, but still very French, he greets me with two kisses, (I think can get the hang of this.) After awkwardly standing there and staring at them, I go for it. I try to start a conversation. I'm so nervous right now and I feel like my saliva is like glue. "So how was your trip down here? Was the bus comfortable?" … and then there's silence…just complete confusion. They are looking at me as if I have 2 heads. The tall boy named Thibault pronounced (tee-boow) says "what?... We don't understand?" I laugh nervously, "oh oaky, uhm" I speak slower and use a lot of hand motions. "How are you…doing? And the bus ride is good no? Did you sleep… a lot?" they smile and laugh "oh yes yes it was good, but no we don't sleep too much because when we fly on plane we have work to do" their French accents were just mesmerizing! After trying to continue that conversation I looked around trying to offer help to anyone who needed it. A few times I made eye contact with Theo and every time he was smiling right back. It was nice, I felt as if we were already great friends!

Once the kids had their entire luggage inside my school's auditorium, we gave them a quick tour of the grounds. It was so exciting seeing them "ooo and awe" at the baseball field, and our two gymnasiums. In France they don't have sports in school; in fact they don't have a gym, or anything. Sports and school are very separate in France because they take their education very seriously. I'm glad this was a whole new thing for them. When we started to walk around the outside of my school, the French kids was amazed at the size of everything; they explained how much smaller their high school was compared to mine. After following behind the group of French kids, I watched as the other American students were fitting right in. I don't know how they did it, How could they just make conversation with them and not be so shy. I felt extremely left out and it was my own fault. I was beginning to worry. How would I ever become friends with them?

At 7 o'clock all the host families arrive, mostly being teachers, we gathered their luggage and were ready to start their experience in America. After getting in the car, I asked my boys Thibault and JB if they were hungry. They both nodded their heads. I guess no matter what country your from boys will always have an appetite. We knew the perfect place to take them too. An all American sports bar called Buffalo Wild Wings. When we walked in their eyes grew big and they were amazed at the TVs surrounding them and the noise coming from all the crazy sports fans getting pumped for the game. I asked them with a smile "You have place like this in France?" they answered "no no" shaking their heads quickly. From their smiles I knew they liked it. After ordering and watching the boys enjoy their honey bbq boneless wings we talked a little, Considering as much as we could with them knowing only a little English. Unfortunately for JB, his English wasn't as great as his friend, so Thibault had to translate everything.

When we came home I got the boys settled and showed them around my house. They met my father and younger brother and even my cat Spice who seemed to entertain JB the most. The boys were so nice already I just couldn't wait to get to know them even more. After everyone changed into their pajamas I told the boys the schedule for tomorrow. It was going to be a long day, starting off with a ride to Philadelphia to eat lunch and play games at Dave N Busters. Then heading over to the mall for a few hours and finishing the night off at a Chinese restaurant for dinner. I think I was more excited than them. After my parents went to sleep, the boys and my brother and I stayed in the living room talking for hours. We laughed and told each other about everything from school, to parents, to party's and all kinds of sports. Believe it or not French kids are a lot like American kids!

The next day was amazing, we met up with about 15 of the other French kids at Dave N Busters and they all had so much fun! I finally met more of the students and I was even joking with them as if I had known them for years! Everything was perfect. I wasn't worried at all anymore. After leaving Philly I couldn't wait to get to the mall. After 2 hours of shopping and showing them around it was time for dinner. That's when things really got exciting.

So I'm sitting at the table, amongst all the French kids eating my shrimp, and it's not long before about 7 of them are asking me questions and making fun of one another. They were all laughing their heads off, and asking me if I agreed that one of their good friends was a loser. Of course it was all fun and games but these kids were getting a kick out of it. After one French kid calling my name, to the next I was overwhelmed with laughter and explaining different things to them. And it was fun to learn new things from them in French. The more and more we talked to them the more of their French I understood and the more English they were retaining. At that moment I felt like the coolest kid in the world. The French kids and all of the host families who joined them were all last to leave the restaurant and I'm sure the manager was happy. Due to our loud voices and uncontrollable laughter you could tell they wanted to clean up and just go home. Although one thing that I'll always remember and to this day still think is funny is when the French kids tried to open their fortune cookies. After using their forks and fingers to try to poke at the crease in the cookie, I explained to them you have to break the cookie. So of course taking me literally one boy named Antoine placed his cookie on the table and raised his fist high brining it down with determination. Smashing the cookie everywhere he smiles as he holds up the little fortune, he is victorious. After this all of the kids were smashing the cookies, leaving a mess everywhere. They were so cute and clueless I loved every bit of it! After bringing the boys home we stayed up even later than before and talked about everything!

Waking up early the next day was hard, Sundays are usually my relax days but this day was full of activity's. As I arrived at school with my two boys at 7am we saw all of the other French students and boarded the bus for our day long field trip. We took a tour of the DuPont mansion and headed over to another museum after that one. Luckily this one was a self-guided tour. I found myself along with one other American girl walking around with about 10 of the French kids. At one point we were just sitting in one of the rooms of the museum and the frenchies were asking me everything and anything. Knowing that their first day of American school was the next day, they wanted to know all about American teenagers. And who better not to answer them than myself. I was feeling quite popular at this point, and I was becoming so close to the kids I didn't want them to leave…ever. After our long day of going everywhere we finally headed over to one of my French teachers good friends for an all Italian dinner. Almost all of the French kid's made it and it was a huge party. I didn't want the night to end.
After our long day of museums I was so anxious to bring them to school the next day I couldn't even eat breakfast I was so excited! I couldn't wait to show off my new French friends! So of course I didn't pay attention in any of my classes but I had new things to worry about. In every class all of the Americans were so interested in the French students and asked them a bunch of questions. They were also really excited to see their other French friends in classes throughout the day. Surprisingly I think I may have talked to a handful of American kids that day, I still found myself involved with the French students more than my own friends. I knew this would be hard saying goodbye in just 2 more days. After the kids laughed at some American kids wearing their pajamas to school, and at some of our goofy teachers, the kids enjoyed our high school over all, minus the lunches of course. But no high school has good school lunches. After school was the kid's most favorite part though because now they could watch a baseball game, lacrosse game, girls' soccer game and even the tennis matches going on. This was a whole new experience for them. It was hard pulling them away from it all to go home. But when I did, I ended up taking about 10 of them home with me. It was like a little party before the banquet we had to attend for dinner later that night. When we all got home we sat in my sunroom and snacked on the cookies my mom made, which they loved! Then after more talking and asking them about their first day of school it was time for the banquet.

Arriving back at the school I was surprised to see more people than I expected, along with the 30 or so French kids, all of the host families and a lot of teachers were there, along with the principal, state board director and even our governor. After eating there was a fun little talent show which some American and French kid's performed. Some of the French kid's played piano, guitar and sang. Even though hearing their beautiful accents sing an American song, my favorite is when all the kid's sang a French song together. Seeing them all happy and being together was such a good feeling. All I wanted to do was make sure I could contribute to their smiles in any way I could while they were here visiting.

The next morning the kids were exhausted, we barely made it to school on time. Once the students got back into our daily schedule things went smoothly. The French students looked so happy. Even though American schools compared to French schools are extremely different I knew they loved the experience of spending time in our school. After another day of after school sports, I was exciting for more French kids to come home with me and I was most excited for one of the French girls I had gotten really close to named Pauline. That day after school my mom took us to get ice cream and then we headed right over to our planned bowling night with all the kids. That night was probably my favorite. Talking to the kids now was so easy, I wasn't even scared anymore. They understood so much English now for just being here for a few days. Everyone was having a great time and the night was young! In fact it was even one of the French boys named Ryan's birthday, which we celebrated with a huge cake. They even sang happy birthday in English and French. The whole experience was so amazing and I knew I would remember it forever. When saying good bye to the kids that night I knew their departure was very early the next morning. It was finally starting to hit me. Saying goodbye to Pauline was like saying goodbye to a friend I had known since kindergarten. Without warning from both of us we cried like little babies, sobbing and hugging each other. We couldn't say goodbye because we knew tomorrow was the last time we would ever see each other and we had just gotten so close. Going to sleep that night I was very sad but I kept thinking about how much fun I had in the past 5 days and how I would never forget it.

The next morning we brought the kid's entire luggage to school and waited for all of the other French kids to arrive. Seeing all of them with their suitcases was really settling in. I had to come back to reality and realize this was it. After saying goodbye to all of the kids and watching my boys load the bus it hit me and I started to cry my eyes out. Sobbing into my hands I looked up when my boys walked back off the bus and toward me with open arms, they came to give me one more, huge hug. This made me cry even more but they were happy tears too. I really fell in love with these kids in a matter of days. After really saying goodbye this time the bus was waiting on one last host family to arrive with two French girls. Who one of them was my new best friend. After all of us walked to the front of the school, we waited as Pauline's host car pulled up. I couldn't even hold myself together before she stepped out of the car, the water works came again and when she saw me crying it was instant tears for her too. We hugged and cried and hugged some more. All the American kids were aweing at us but they didn't know how Pauline and the other kid's had touched my heart. This was a serious time for me, and the hardest thing was letting go. Once Pauline got on the bus we all waved to them as they pulled away.

Those 5 days were really the best and most memorable of my whole junior year of high school. The kids left footprints in my heart forever and I can't wait to see them again. I just keeping telling myself every last goodbye is closer to the next hello. And believe it or not most of the French kids already plan on coming back next summer. And I plan on hosting all of them. ! In fact Theo is coming back this summer! Their trip couldn't have been any better. I'm so thankful I got to meet them and experience their culture and learn about them. And I can honestly say it was my honor showing them a typical American life. In a way they left a part of them here in America and I'm sure they took some of America with them as well.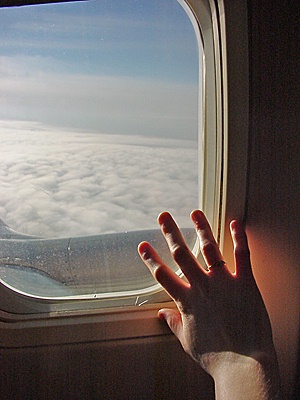 © Greg K., New Lenox, IL