Perfect Love
April 19, 2012
They say high school students don't understand the concept of love. They nail this idea into our heads that because we are so young and immature, we cannot experience love at this time in our innocent life. Well I say that those are the most idiotic assumptions that an adult can make, and I have someone to show you to back it up. I know this person so well, I think I'll go ahead and describe him.

He's always there. No matter where I go, he always seems to have my back. The idea of someone always being there, over your shoulder can be a little overwhelming at first, especially if you have a parent who is always on your ass. This is not the ass rider that we all know and hate, but rather a lover who knows exactly what to say when words need to be said. He always knows what to do when I find myself broken into a million pieces. He builds people up on himself and carries them forever! Not till they are ready to walk, or tempted to leave his side, but through all of that, and then some. He dances over me while I seem to be completely oblivious to me. He sings all around me, but I never hear a sound. He's always there.

He never changes. Of all the great people I've meet in my life, they never seem to stay the same! New friends, new locations, new habits, all seem to twist and turn the personality of these people. He is quite different! As boring as that may seem to most people, the reality of it is much sweeter. He always says the same things, yet they come off different. I refer to his advice as living thoughts because he'll say something one day and I will comprehend it in my mind, but a week later it will have grown into something greater and even more applicable. I never have to worry about seeing a new him, or wondering if things are different after being away for a long period of time. Every time I come back to him, I know what to expect, but his overwhelming and loving presence still catches me off guard.

He loves everyone. The few people that dislike Him (for no reason whatsoever) are loved more by him than anyone else. He tends more to the people who have something against him, than those who don't. I've never heard him speak down to someone or deny a conversation because of who they were. He loved the big, small, tall, fat, skinny and popular too. He didn't only seek to cheer up or love the kids who were depressed, but the ones who had a "good" life too! Not only does he love everyone, but he also loves all the time! He never takes a day off from loving me, or sending me a reminder of how much I mean to him. He delivers it in such a way that you never get tired of it and you never consider anyone else's to be better. After a while, all you want is his because his is enough! It fills a sort of whole in your heart and you notice when that hole opens up again.

He's all you ever need. As guys and girls come in and out of our lives, we often have a longing for certain individuals, but He's all you ever need. He's the perfect amount of friend, father, brother and cousin all in one. The best part is he makes you feel like you're his only one. I know I'm not his only one, but if you ever felt his love, you'd understand where I am coming from.

I'll never forget him and the relationship we shared since the beginning of high school. As graduation approaches, and goodbyes begin to creep up and break apart relationships, this is one that will stay strong forever. I am not worried about leaving to college and losing someone I love because he is always with me. Jesus is always there, He never changes, He loves everyone, and I will never forget him.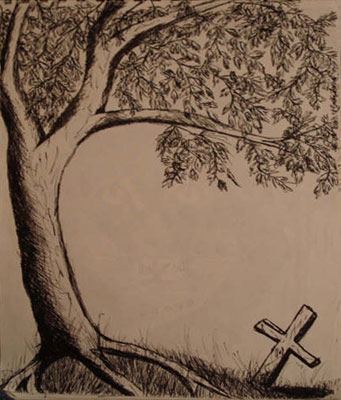 © Courtney K., Bethel Park, PA