Turks and Caicos
April 12, 2012
My mom and I recently discovered a hidden island in the Caribbean called Turks and Caicos. Most people have not heard of it and did not know where it was. The Turks and Caicos consist of forty islands, eight of which are inhabited. These islands are located just east of the Bahamas and north east of the Dominican Republic. This was the trip of a life time.

We stayed in an apartment on the most populated island of Providenciales. It was called the Island Breeze and was only a three to five minute walk to the beach. The first day there we got up early and headed to the beach. My mom and I are in love with the sun! We camped out at the Seven Stars Hotel all day. We saw a woman and her family walking an adorable dog on the beach. We talked to them for awhile and they told us that at a nearby place you can take out sheltered dogs for walks. I am also in love with dogs so we went to the Pot Cake Place later that day. We took a dog out for a walk, his name was Milo. He was most likely about eight weeks old. It was about three in the afternoon when we took him to the beach to play. All of a sudden a huge rain storm comes and we have to take shelter under an umbrella. After it stopped raining it was time to take him back. A few minutes later after we dropped him off it was burning hot again! Luckily we didn't get burnt that day.

It was now Saturday and we decided to hang out at Ocean Club West. This day was really hot so I went swimming for a lot of the day. I wanted to go on the Banana Boat but no one else wanted to go. I decided I would have to go the next day. They took me on a speed ride instead because we had been waiting all day and no one went. Later that night we biked down to Mango Reef. It is a restaurant at the Alexandra Resort. It was such a nice night out; you could see every star in the sky! We ate on the beach and watched the waves roll into shore.

We felt like doing something fun. So we asked the land lord if he could take us down to Coral Gardens at lunch time to go snorkeling. He is such a nice person and said he would drive us down there. But before then we went to the beach and laid in the sun. By the time noon came around Wayne picked us up and we headed to Coral Gardens. We snorkeled there for a long time. People say there is a turtle that hangs out by the buoy. We swam out there to check it out. Instead there was a huge three foot long skinny fish. My mom told me to dive down to take a better look at it. I dove down, looked at it then started swimming to the surface. As I was about to take a breath of air, I opened my eyes and saw it right in front of my mask. It had tried to attack me! My mom was freaking out and laughing all at once. It was so scary! When we got to shore people said it was most likely a barracuda! After that they had a BBQ on the beach where we got burgers, then laid in the sun. It became so hot out that we had to move to the shade. That is rare for my mom and me. Before it was time to go back we went for one last snorkel. We saw tons of beautiful Parrot Fish and Angel Fish. Parrot Fish are my favorite! My mom says I look like one now since I got my brace off!

While walking to the beach we stopped in a tour guide shop. We booked a snorkeling tour for later that day. After that we headed to the beach to soak up the sun. We played a game called Paddle Ball and played catch in that water with a ball that bounces on water. By the time the tour came around we headed to the bus stop to be taken to the marina. There were very few people on the boat so we had lots of room. First we went to Iguana Island. Someone led us on a tour around the island. We saw so many big Iguanas. Next we took a quick boat ride to a nearby reef. We went snorkeling and saw so many amazing fish. Surprisingly it was better than Coral Gardens. We hopped back on the boat and headed to a part that was all sand on the bottom and no reefs. On the way over I saw a turtle! We went Conch diving! It was a blast! It was twenty feet down and I was one of the only ones who could dive down that far. The captain called me his "Deep Sea Diver". I got two live Conch and two dead ones. As we got back on the boat we went to Shell Beach, where they would make the Conch for a yummy salad and look for shells. There wasn't a place you couldn't stand where you wouldn't step on a beautiful shell. They called us back to the boat and told us the Conch was ready to be eaten. It was amazing! We threw the bad meat into the water. Later a Lemon Shark and stingray came. It was so cool.

It was already Tuesday and the time was flying by. Finally I got to go on the Banana Boat! I went with one other person from London. He was really nice and funny. I flew off once, but it was fun. He asked me later if I did my nails myself because it had a flower on them. It was funny. After that we went swimming in the pool and played catch and Paddle Ball. Later with Wayne we went to Da Conch Shack. It was a cute little shack right on the beach. The food was really good and we were glad we went there.

Wednesday was one of the stormier days on the water. The waves were bigger than usual, so we went boogie boarding. My mom just had the board and went out a little further while I boogie boarded. I only wiped out once, luckily. When my mom wanted to go in she decided to ride one in, she hit a huge wave and wiped out. As she was getting up another one hit her! It was pretty funny. We were done boogie boarding so we watched a dumb teenage boy in the water. We would sit there and let the waves roll over him. He wiped out every time and didn't care. Later that night we went to the Tiki Hut with Wayne. It was so good. We all had amazing ribs and sat where we could look out over the marina.

The next day we headed to the beach and right off the bat decided to take a walk down the beach. We heard of a cute cultural center that we could get some earring at. I got two really pretty pairs for five dollars each. We headed back and got in the water right away. I did a little boogie boarding but not much. We put our chairs close to the water and let the waves roll up on to our legs. It felt so good! Later that night we went to the Seven Stars Hotel to listen to a live band. They were really good!

It's already Friday and our last full day! We laid in the sun and I went diving into the small waves. Of course we played more paddle ball! A few people have come up and told us how good we are. We met a nice family for Minnesota and we talked with them for a long time. Too bad we couldn't have met them early because they had three kids around my age. Later we took a bike ride to Saltmills. We ate at their diner/restaurant. I had breakfast for dinner. It was amazing! I had Cinnamon rolls turned into French toast, eggs and bacon. Before and after dinner I went to see Vinnie and give him some attention at the Pot Cake Place. I stayed there until closing!

This was our last full day. I was so sad to go home! We got up early and went to the beach. We got a record of 107 paddle balls! I took one last swim in the pool and ocean, and then we had to go back and get ready. I hope we can go back some time really soon!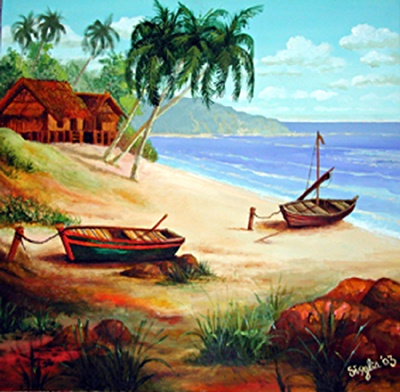 © Sisylia O., Surabaya, Indonesia