Home Away from Home
November 30, 2011
Most people would say that their home away from home is someplace sensible, like the beach house they visit every summer or their grandma's house. Some may be sarcastic and say that their home away from home is their workplace. I think I have them all beat.

My home away from home, the place where I want to spend all my time, is 3,000 miles away, in a country most people don't even know exists.

When I boarded a plane for the first time and headed off to Guatemala, a country I had only heard about recently, I never expected to fall in love. Sure, I had joked with my best friend about falling in love with a boy there but that was all it was - joking. The thought of falling in love with a community, an entire country itself, of never wanting to return home because I was so blissfully happy, never even crossed my mind. I guess it's true that the best things in life are unexpected.

Joyabaj, Guatemala rests high up in the mountains, a few hours drive from Guatemala City. For the most part, it is a very rural and poor community but what the citizens lack in money and material items, they make up for in kindness, generosity, and love.

I met the people I would soon come to call my Guatemalan family soon after we arrived in Joyabaj. They were a very prominent family in Joyabaj and had been my teacher's best friends growing up. We went to their house right after we arrived and were welcomed with open arms, despite the language barrier. Deisy immediately gave off an aura of motherly caring and kindness. Each evening we would travel to her house for dinner, which she spent the day preparing. Occassionally after dinner she and her husband, Elder, would return to our hotel with us. Elder would sit around the patio with us, playing his guitar and singing. The stars were so bright and the noises of the city we become so accustomed to in the United States were non-existant. It was like living in a dream.

We spent the majority of our time in Joyabaj volunteering at a school. The first morning we arrived at the school, it was as if a moviestar had walked through the door. The students all yelled to each other, running out of their classrooms in excitement, then became more shy and reserved as they came to see us. The older students attempted to converse in English while the younger students jabbered on in Spanish, oblivious to the fact we had no idea what they were saying.

That day their schedule revolved entirely around us. We spent the first morning introducing ourselves to the students flocking around us, asking names, and being led around the by students so excited to have us there. Then they held an assembly, just for us, welcoming us into their school and their culture. They gave a performance symbolizing the traditional life of a Guatemalan, with the men working in the field while the women prepared the food. The younger children danced and sang, giggling over the silliness of their songs but enjoying themselves all the same. Then, when the spotlight turned to our small group, we gave a poorly choreographed performance of Cotton-Eyed Joe, laughing as we danced, and within seconds the majority of
the students had joined in, dancing right along with us.

As the week progressed, I came to know and love many of the children at the school. There was Sefora, the little girl that I would end up sponsoring, Olga, the with the most adorable scarves who would always respond "I'm fine, thank you!" when I asked how she was each morning, there was all the kindergarten, first, second, and third graders who would flock to my side each morning, and then there was the bilingual secretary students whom we spent most of our day with, helping them with their English and providing them a chance with a better future.

When our final day at the school came, I was not ready to leave. I had come to love so many of the students and the teachers. During the teacher's lunch break, they gathered the group of us into a room. There, the principal gave a speech on how much he appreciated having us there and how we would never be able to understand the huge impact that we had on the students. What he didn't know was that the students themselves had left an even bigger impact on us.

When the end of the day finally came, I couldn't stop the tears from coming. As I told the bilingual secretary teacher, whom I had come to adore, goodbye, tears began to fall from both of our eyes. "Promise me you'll return," she said through tears.

"I will." There was no doubt in my heart about a future return as we locked pinkies in a promise that I would not be able to break.

Driving away from Joyabaj was bittersweet. I was sad to be leaving so soon but I also knew that I would be arriving back in the States a different person. As I waved goodbye, I made a promise to myself that I would do whatever I could to help these children. I knew that I would always have a home there, whether I came again with my school or on my own. In just a few short days I had gained a place in the community, my very own home away from home.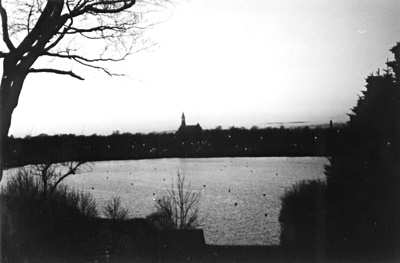 © Julie P., Marblehead, MA