A Whole New World
August 30, 2011
Being the daughter of a military man, I've lived my life in many different places. One major sacrifice of the military family is never staying put. However, I don't view this as a sacrifice. In fact, I've always had a soft spot for traveling. You can imagine my excitement when my father told me we were moving to a little island in Japan called Okinawa. I was ten years old at the time, but I remember the "big move" like it was yesterday. We were living in Klamath Falls, a small town in Oregon, and it was winter time. The snow was piled up on the roads and the cold weather was beginning to get on my nerves. I was looking forward to the warm Okinawan weather.

Once we landed at the Naha airport in Okinawa, I immediately fell in love with the island. It smelled like a big rainforest, which it pretty much is because it's a tropical island. The warm, wet air felt good after previously living in such a cold environment. As my family and I drove to our new house on Kadena Air Base, I began to notice the differences between Japan and the U.S. Of course it was strange seeing the steering wheel on the right side of the car instead of the left, along with the cube-shaped cars and tight roads with many vehicles driving along. The few signs were written in Japanese with the translations underneath in English. The translations usually had poor grammar, which we called "Engrish." When we arrived at the base, I noticed that all the buildings were made of concrete. I thought it was strange at first, but I soon realized how beneficial it was as we sat through many typhoons and tropical storms without any effects.

Throughout the three years that I lived in Okinawa, I attended three schools: Stearley Heights Elementary School for half of sixth grade, Ryukyu Middle School for seventh and eighth grade, and Kadena High School for half of my freshman year. All three of these schools were small, plain, and had a low number of students that attended. These schools were much more diverse in race than the majority of the schools in the U.S. None of this made a difference to me, though. I loved the schools I went to and met my very best friends there.

Japan was very different outside of the American base that we lived on. The beaches that surrounded the island were gorgeous with their clear water, white sand, and palm trees. We would always have to wear reef shoes when we went to the beaches because the ocean floors were covered with coral, sea urchins, reefs, and other marine life. However, it made snorkeling very interesting.

The Japanese are some of the nicest people I've EVER met! They're polite, kind, and always treated us with respect. Their heavy accents and "Engrish" were hard to understand, but I'm sure they felt the same way about us. They're athletic, healthy, disciplined, and hard workers. They eat mostly fish and rice, play mostly soccer and baseball, and spend most of their lives working. The Japanese are very pleasant people and I enjoyed getting to know them and their culture.

As much as I loved living in Japan, it wasn't home. It wasn't "the states," as everyone called America in "Oki." I never appreciated the little things such as Walmart, Target, American malls, and more until I lived somewhere without all that. I missed the familiarity and homeliness of the states. This article isn't even close to summing up how amazing the Okinawan culture is and what a great experience it was for me, but it sets the idea. However, it was time for me to return to America after an amazing three years in Japan, but I still consider Okinawa to be my second home.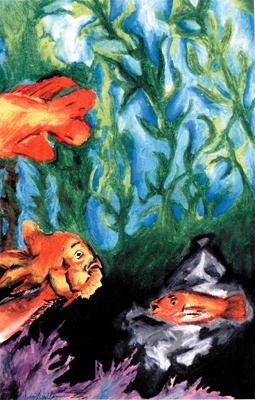 © Sara K., Coarsegold, CA