What Audrey Hasn't Seen
July 21, 2011
<i>Ah, America, the land of freedom and opportunity; I already miss you. </i> A cacophony of swerving, honking cabs and mobs of Chinese speaking in the loud, harsh tones of different dialects immersed us as we walked out the air-conditioned, all-shining-chrome airport terminal and into the sweltering heat of the parking lot. I took a small, hesitant breath, instantly regretting that I had; the sluggish Shanghai air was just as I remembered: saturated with car exhaust mixed with cigarette smoke, so thick it was a chore to breathe in. Covering my mouth, I couldn't help adding, <i>Ah, China, the land of terrible plumbing, scary bathrooms, and way too much pollution—where Crocs and the complete K-Pop look are all the rage. </i>
The incredible humidity and heat of a Southeastern Chinese July wasn't entirely unfamiliar to me. My parents and I had visited our relatives plenty of times in the past, but, being a California girl, I loved the sand, surf, and mild, year-round climate of San Diego. Not this sensation of being trapped in a large boiler, inhaling air so moist it was nearly liquid.
Trying to be a bit more optimistic, I thought to myself: <i>Well, at least the weather reminds me of last summer at the Wizarding World of Harry Potter in Orlando! </i>No need to add that I was wearing a Hogwarts T-shirt (my favorite), or that we had driven to LAX approximately five hours after my friends and I had watched the midnight premiere of <i>The Deathly Hallows: Part 2 </i> (fully decked out in wizarding apparel), to prove just how big of a Harry Potter fan I was.
That didn't seem to work. As I halfheartedly followed our driver—a friend of our relatives'—as he threaded in and out of the throng of screeching cars, I thought of the last friend I had talked to: my best friend Audrey. With an unhealthy obsession of anything even slightly related to travel, Audrey had called me just before our plane departed to remind me how lucky I was to be visiting overseas (her family was to visit Montreal). I countered with my typical "but I have to sit uncomfortably on the plane for thirteen hours, the plane-food will be horrible, and the bathrooms in China are gross" arguments. Audrey could consider her best friend lucky all she wanted, but the only parts of China she knew were the scenic, bustling tourist attractions steeped in interesting and ancient history that she experienced via Samantha Brown's <i>Passport to China </i> episodes and her monthly <i>Travel </i> magazine.
Yes, like any other country, China has a multitude of aspects that makes it a great place to visit. The scenery, culture, and history of the country are beautiful, rich, and interesting. All Chinese are amazing cooks, just as my relatives are amazing people, even if they do tend to stuff me with too much food. We would be attending several banquets as well, including my grandparents' birthday dinner, which would be chock-full of delicious (though expensive) dishes.
But also like any other country, China has its… less enchanting sides. Hiking up the Great Wall and exploring the Summer Palace were not in my itinerary. My destination was not the breathtaking sight of the West Lake.
My father and I were visiting my grandparents—my <i>Yeye </i> and <i>Nainai </i>—in Wuxi, about two hours west of Shanghai (composed chiefly of dirty concrete and too many smokers—though less than before). Like any other Chinese city, Wuxi is crowded and hectic. Older women in stiletto heels and infants ride mopeds—the amount of which in one place more than one would see in a whole lifetime in the United States. The use of seatbelts and helmets is scarce. Every day, an individual is likely to be nearly barreled over by a car on at least five separate occasions. McDonald's and KFC are as luxurious as American steakhouses. Soaring skyscrapers, cranes, and dilapidated apartment buildings dominate the hazy grey skyline. The poor air provides inadequate visibility. Ads of Jackie Chan are posted everywhere. The streets are bustling and alive even at midnight. Roofs are littered with soggy cardboard, shattered bricks, crumpled wrappings, rotting food?stagnant puddles of water; even a mop once (how did that get up there?). And the public restrooms... entering the public restrooms in lower-quality buildings are frightening ordeals for a foreigner like me.
Lost in my woeful despairings of the next ten days (I wasn't looking forward to YouTube or Gmail Chat withdrawal, or the fact that, with my sun-tanned skin, short-shorts, tank tops, and ability to only speak Mandarin, I would stick out like a sore thumb) , I passed a 50-year old-or-so man donning a shirt displaying a grammatically incorrect sentence in English and a gaudy depiction of Tom chasing Jerry, and climbed into the backseat of Mr. Relatives' Friend's car. I clicked on my iPod and rested my head on the window, gazing gloomily at my father's left ear as he conversed jubilantly in the Wuxi dialect with Mr. Relatives' Friend. Sighing, I peered out the window. Looming billboards punctuated the seemingly infinite highway, and colorful clothes hung out to dry decorated towering apartments, swaying comically in the dry breeze.
I shivered. <i>Dang </i>, I glared pointedly at the back of the driver's balding head. <i>I like a little bit of AC in this weather, but is it really necessary to overdo it that much? </i>
He yammered on cheerfully.
I skulked.
Wallowing in self-pity, I let my mind wander: <i>I wonder what my friends are doing right now? They're sleeping. I want to sleep. </i> I nodded pensively. <i>I'll sleep. </i>
I fumbled in my jeans pocket for my silver second-generation Nano, turning the volume of Katy Perry's "Teenage Dream" down, then adjusting the hold switch and returning it to my back pocket.
An hour later, I awoke from my dreamless sleep to music playing softly through my purple ladybug ear buds. <i>"Somewhere Only We Know" by Keane. I like this one. </i>I sat up, rubbing my goose bump-covered arms. The two men in the front were still chatting enthusiastically, exactly as I had left them. I had a feeling that they were talking about me; if people were talking about me in a language I didn't understand, I'd go mad after a few days.
After another sixty minutes, which I had spent asking several times to "go easy on the AC" and staring wistfully through the glass, counting how many moped passengers wearing helmets and traffic lights we had passed (whopping grand totals of one and three), the car finally came to a halt. Shaking off my fantasies of spending the day at the beach with Audrey—it would be so nice this time of summer-I groped languidly for the door handle and stumbled out of the car.
A gust of moist, stifling heat enveloped me. "We're here," I grumbled dismally, recognizing my grandparents' apartment building, which I had last seen when I was nine. Well, the place certainly seemed in a better shape than before (was it less grimy?). Maybe there would be more "Western restrooms" this time around?too.
I heaved a suitcase from the trunk and listlessly hiked up to the doorstep after my father.
"Here goes," I sighed, hoisting the obese luggage along and starting the eight-flight journey up the steep stairs.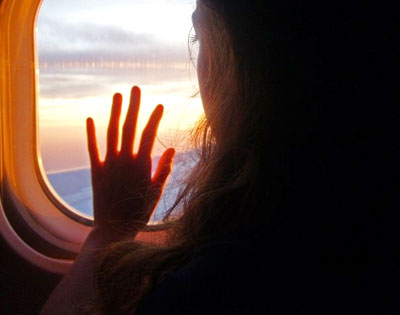 © Megan C., Nashville, TN