the sl0pe
May 27, 2011
Briiiiiiiiiiiing. Well there's the alarm time to get dressed. Said my mom. YES I

Screamed! So I got my ski stuff on. It's time to hit the slopes. Not knowing that I
Was

Actually closer than I thought to hitting the slopes. That day I joined a HOT SHOTS
Class. They take you on greens and blues AND black diamonds. The mountain we
Go to ski on is wolf creek Colorado they have the record for the most snow in
Colorado!
So I was just
Getting ready and they took us up on a warm up lift called the nova. It's a small
Green. Then we went for the hard stuff. We went on a lift called the raven lift its
Not a beginner lift it's very hard you're actually on the edge of a cliff! You can look
Down and there's just trees that's it! It's pretty cool though. We got on a blue and
I was going so fast that I lost control on a sharp curve and the skis slipped out
From under me and I fell and hit my leg on the back of the ski. You see your skis
Are supposed to pop off so that you can get up easier so now my leg has this HUGE
Bruise. She said that she could call ski patrol to come and get me or I can go the
Rest of the way. I chose to ski down. I was having fun even though my leg was
Hurting. So I was sad to hear that I could not go down that lift the rest of the day.
But I got to get on other lifts so it turned out to be a very good day. It was getting
Dark so the lifts closed down and we went home. It's so fun to ski there!!! We had
Another week to ski. The next day we were going to go ski we were halfway up the
Mountain. But when we were almost there we looked to our left and saw an
AVALANCH! We were like cool! But then we found out they had to blast out some of
The snow so we had to wait 2 hours before we could go up on the lift. That day was
Better than the first because we actually got to do all the lifts there were not many
People there. Many left because of the avalanche. We could usually just hop on
Without waiting in line. Longest line we had to wait in was about 10 minutes. The
First day was about 30 minutes. Except some most of them were long the first day.
And that was also the first time my nies skied. My nies was about 4 years old. Now
She is 6. It was funny because her first times down the lift she couldn't stop so her
Instructor had to teach her how to slow down and stop. It was funny. She liked to
Ski but one day she said she didn't want to go to the mountain we all agreed we
Were very tired. So we took one day off. We ended up getting some sleds and we
Found a HUGE sled hill. Like biggest I have ever seen. We ended up leaving because
Like two or three people got hurt from the jumps so my sister got scared that my
Nies might get hurt. The next day we went to the mountain to ski again. The place
Where we go to ski is wolf creek, Colorado. It has a record for the most snow in
Colorado! Then our last day we went to hot springs. It's like natural heated water.
The hottest one there was about 112*. Also it is outdoors which is crazy because
It's about 10 degrees outside and the ground was snow covered. We went to it and
As soon as we got outside our feet were freezing you couldn't stay out of water for
More than 5 minutes without jumping in the water! One time I was by myself
Walking to one of the springs my feet started to freeze like crazy! I jumped in one
Of the springs with no one in it. Then I was burning hot. I looked at the
Temperature of that spring it said 112* I literally jumped out of the water. That's
When I thought (so that's why no one was in there!) then we went home and got
Ready for bed… then the next day we packed up and drove 6 hours to New Mexico
Got on the plane and went home that's one of my best vacations yet! We are
Planning to come back this year some time. Sometime around Christmas.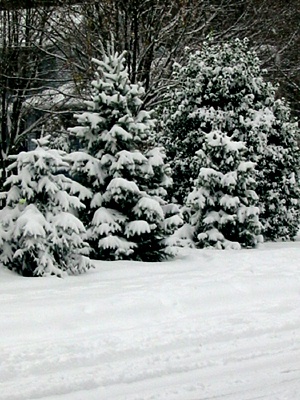 © Kristen S., Sewell, NJ