Gratitude
MAG
May 21, 2011
The sun is hot overhead, no clouds can be seen, and the bazaar is busy. People push and shove as they move around. I'm sucked into the crowd, no longer moving of my own accord. I can hear the shouts of irritated mothers scolding kids, store owners advertising their products at the top of their lungs, and a steady beat of drums playing from the center of the metropolis. Children dart between harried men and women, passing cricket sticks to each other and laughing delightedly as they eat ice cream and try not to get too close to the camel in case it spits. I wipe the perspiration from my head and slowly trudge on.

Finally, making it out of the dense sea of people, I look around. To my right, I see bangles of every color. A slight wind slides through and the bangles make a soft jingling sound that is quickly muted when I place my hand on them. The smooth metal is cool on my hot fingers; it feels almost as delicious as I expect water would right now.

I'm blinded momentarily as a ray of sunlight hits the rows of bangles. Shafts of red, orange, and pink are reflected, and I'm enveloped in the balmy glow. I can almost feel the colors seeping into my skin.

The evening descends. Faint cries of crickets surround me as I look at the rows of sugarcane and the long dirt road that spans the Lahore, Pakistan, countryside. A sweet odor from the food carts combines with the soft breeze and floats through the bazaar. I can smell the spicy eggplant, the sugar-covered dates, and the damp flowers from garlands that wilted in the glare of the sun.

The crowd has vanished; only a few store owners are left. I come across another stand and feel the soft, silky fabric of the saris the man is selling. Rich purples, blues, and burgundies shine in the glow of the brilliant white crescent high in the star-lit sky.

Walking through the deserted streets, I see an old man sitting on a broken rickshaw. He's dressed in traditional clothing, a long white tunic over loose blue pants. He has small tufts of hair poking out of his topi, a hat that no doubt protects him from the heat, but looks raggedy and old. He looks up and I'm shocked at the color of his eyes and intensity of his gaze. One ice-blue eye looks out at the horizon; the other eye is red and puffy. He starts to chant softly, and I recognize the prayer of gratitude. He breathes in slowly, turning his head to the white crescent, and I watch from a distance as the blind man appreciates the beauty he cannot see.

The hot sun is gone, but there's new warmth surrounding me: gratitude for being in such a beautiful world that everyone, no matter how different we are, can appreciate.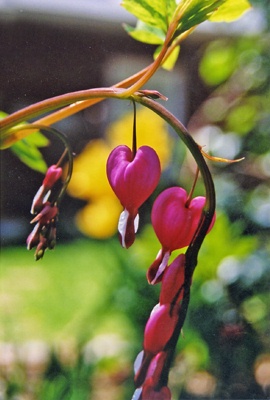 © Sophia E., Wilmington, DE