In the Face of Adversity
May 16, 2011
As a young child I always felt obliged to express kindness, compassion, and respect towards all aspects and members of society. Sometimes understanding the differences and cultures resulted in frustration and bewilderment for me. However, with experience and discipline I expanded my ideas and acknowledged various perspectives and traditions. My true understanding of the world came as a teenager. As a teenager, I was a void between an adolescent and young adult. I followed the rules, respected my elders and honored my parents. I ventured through life disregarding the existence of a world with pain and death. I never grasped the concept of poverty, begging for food, for shelter, and for water until I traveled to Morocco, Africa and witnessed a deteriorating society firsthand.

As I tottered upon the cobblestones, gravel, and trails of grains that weaved throughout the streets, I inhaled the putrid stench of decomposing animals, rancid food, and spitting camels. As I turned down a winding bend filled with food, carts, clothes, chickens, bags, shoes, and furniture I caught a glimpse of starving children all skin and fragile bones, seeking food and shelter. Flustered and glum I staggered on, hoping to erase the image of the rotting children from my mind. Canines and felines roamed the streets, while dazed tourists gazed in shock, sorrow, and silence at the congested Moroccan streets. The whole atmosphere forced chills down my spine, the experience was extremely cumbersome and difficult to handle. I never imagined poverty could cause so much suffering and affect so many lives, even those who had always had plenty of money to suffice their dreams, needs, and lives.

From the moment I stepped over the border into Morocco, poverty lingered in every crevice, every corner, every cave, every crook, every curb, and in every person's heart. Vendors selling used parts and possessions in hopes of feeding their children and the cries of famished children ringing in my ears pierced my somber heart. Feeling guilty, and sympathetic I dropped coins for the sullen children as I wandered on. While I struggled to keep up with the group, I noticed streams of tears trickling down many faces, and perplexed tourists pick pocketed left and right. My tour group could not assist the poor souls suffering in the streets because we were escorted and funneled from one Arab market to another. While I bargained with a man in one of the markets, I noticed the Arabs treated the Moroccans like slaves. The Arabs only intent was to make a profit and had little respect for the people struggling to make a living in the demanding markets. Traveling to Morocco instilled discomfort and terrible nightmares within me, but it also changed my beliefs. I never thought such a disheartening, fearful place and state of poverty existed, but traveling to Morocco proved me wrong.

Morocco encompasses much more than simply poverty and suffering, but it also is a primitive North African culture that links the breach between the Middle East and the rest of Europe. This culture seemed very unfamiliar and disturbing to me, but it made me to value my life and all I possess. The struggles I face accumulate to nothing in comparison to the Moroccans. The daily lives of people all over the world differs from place to place, but one never truly understands the suffering and effect poverty has on a community until they encounter it themselves.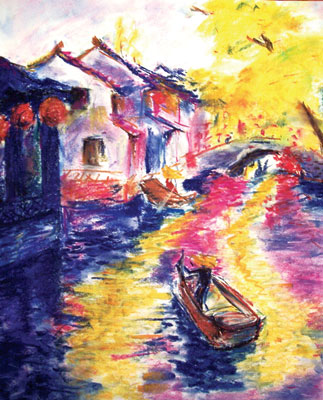 © Xiao H., Naperville, IL