Beirut: Old and New
MAG
May 10, 2011
I climb onto the warm boulder, sun soaked after a hot morning. Cross-legged, I sit on the flat top. I look up, down, all around, and across the horizon: grass, rocks, dirt, red-roofed houses, and blue sea melting into the sky. Sometimes you can't tell where the earth ends and the sky begins. Curious eyes look around the crest of the mountain, foreign eyes that say, I have never been here before even though they have. Every time something is new.

A few kids feed a mother horse and her foal. They stretch out their necks encouragingly for some grass. Another horse huffs grumpily, but no one notices him. Squeals from the wet tongue, surprised exclamations as a horse nudges an unexpecting child. It's just like in the city: cheerful people who usually just want something, but there are a few grouchy horses as well.

I'm shaken out of my thoughts by a tap on my shoulder. It's a couple holding out a camera. I smile and take their picture. They freeze, grins on their faces. The woman, who has a plump, cheery face veiled by a hijab, beams as she takes back the camera and shows it to her husband. He grunts "shukran" (thank you), and the two amble off.

A huge field is in front of me, and a few older kids kick around a ball and converse in Arabic. Soccer, or football as it's called here, is definitely a popular sport. The World Cup celebrations kept me up all night, with fireworks and whooping, but it's always nice to see people feeling such passion.

The rock is becoming hot. I look down, observing its sun-burnt holes. Suddenly, a flicker of purple – or is it blue? green? – catches my eye. It's a lizard, and I've never seen a purple-blue-green one before. It stares. A city and a sea are reflected in its eye. I blink and it's gone, a purple-blue-green shimmer in the grass.

Speaking of blue-green, the sea is right in front of me, sparkling and changing in every moment under the sun. Today it's a dark turquoise with strips of light blue and green. I can see the foamy white tops of waves speckling the water, and at one point a cargo ship passes by. To me, an outsider, the sea is absolutely magnificent. I have never seen it before – well, I have, but never right outside my window.

Then another camera is shoved into my face. This time it's my mother. I grin weakly. I hate being the focus of a camera's eye. I believe pictures are great for remembering memories, but everything looks so frozen and posed. But then again, sitting on a rock on a mountain in Beirut, Lebanon, doesn't happen every day.

Beirut, the Paris of the Middle East, is a city blended with old and new, like the ruins that sit beside gleaming, modern buildings. Old and new mix until you can't tell them apart.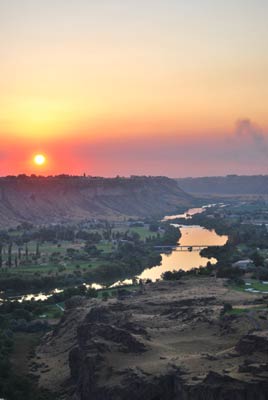 © Jolie R., Henderson,NV